Frank Mottek: Dialed In
CBS Radio anchor Frank Mottek learned he had a voice for the broadcast industry while leading the Pledge of Allegiance over the PA system at his Florida high school.
Monday, July 12, 2010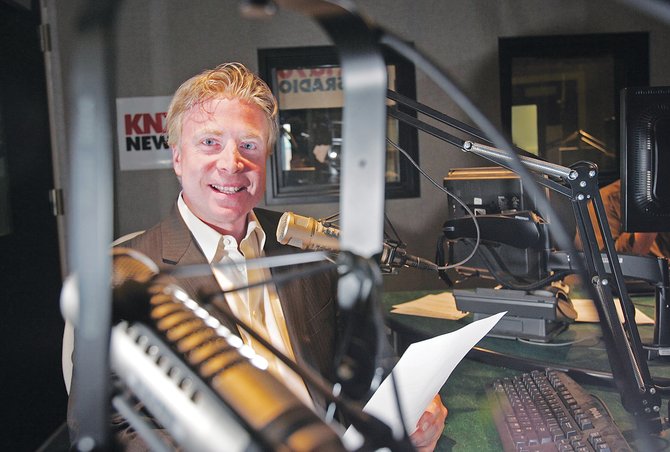 The first thing people notice about KNX "Business Hour" anchor Frank Mottek is his voice. It's got a deep resonance that he's been cultivating since the age of 16, when he got his broadcasting start with an FM station in Miami. Only two years later he was promoted to news director there. By the time he was 23, Mottek was covering space shuttle launches for CBS' all-news station in Miami. In 1986, he reported the Challenger disaster live from the Kennedy Space Center in Florida. Mottek discovered his passion for business reporting in 1989 when he began substituting for stock market anchor Paul Kangas on PBS television's nationally broadcast "Nightly Business Report." In 1992, Mottek moved to Los Angeles, reporting for radio and TV; he has anchored "Business Hour" 1 p.m. weekdays for the past five years, and also provides twice-hourly business updates throughout the day. Mottek sat down with the Business Journal at CBS Radio's Wilshire Boulevard studios to discuss his coverage of the Challenger explosion, why his colleagues used to call him "Un-Funky Frank" and how Katie Couric trained him in TV news by taking him out to cover a peacock that had landed in some woman's backyard.
Question: Did you listen to a lot of radio when you were growing up?
Answer: Very much so. I was always very interested in the news and current events.
What was your childhood like?
I grew up in a house on a lake in Florida and it was fun – lots of boating, biking, model rockets, chess, cool friends and I enjoyed school.
Did you always know that you wanted to go into journalism?
No, I was the president of the future doctors in high school. Because of that, I worked in a hospital emergency room for three years and took advanced science classes. Journalism started as a fun thing for me. I'd never even visited a radio station. But when I did, I liked it. And I had the chance to work there.
How did that happen?
My speech class teacher suggested I apply to become the school announcer. I ended up leading the Pledge of Allegiance every morning for the full four years I was in high school. Because of my position as the school announcer, I was told that a radio station in Miami was looking for interns. About a month after I started, I was on a telethon and said a few words. The program director heard me and asked if I had ever thought of doing the news.
Prev Next
For reprint and licensing requests for this article, CLICK HERE.
Stories You May Also Be Interested In