In a Safer Place
Public Storage looks to launch an expansion plan and boost rental fees as the economy stabilizes.
Monday, July 5, 2010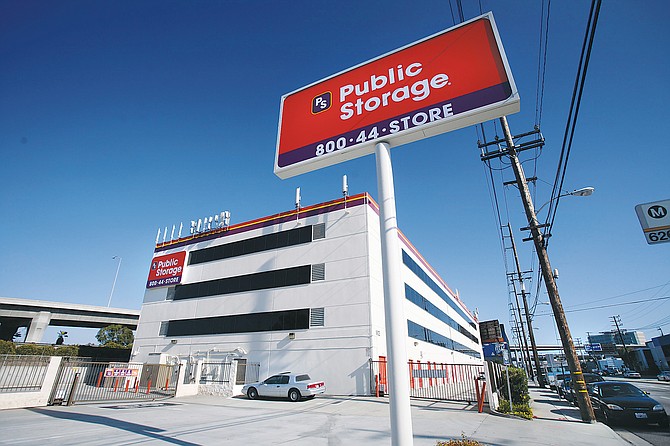 Public Storage Inc. looks like it's weathered the worst of the real estate recession, so the company is about to increase rental rates and expand through acquisitions as the economy improves.
Glendale-based Public Storage is the nation's largest owner of self-storage rental units for homeowners, apartment dwellers and small businesses. The market is confident that the company is poised to make money: The company's stock has risen 15 percent since the beginning of the year; 50 percent since summer 2009.
The company's strategy during the downturn was to control costs and amass cash. Because it is a real estate investment trust, or REIT, federal regulations required distribution of 90 percent of its net income to shareholders each year. However, regulators in 2009 agreed to special relief rules so REITs could make distributions partly in cash and partly in new stock. Public Storage used that strategy to build up a war chest.
In its most recent quarterly filing March 31, the company had about $720 million in cash, $95 million invested in corporate notes and a $300 million line of credit.
The company's first quarter performance was mostly negative compared with the previous year. Revenue was down 2 percent and net income was down 15 percent.
The special REIT relief rules ended in 2009, so Public Storage increased its dividend twice this year to meet regulatory requirements. In February, the company's annual report announced an upgrade from 55 cents to 65 cents per share per quarter. On May 6, the company announced its first quarter operating performance and another dividend increase to 80 cents per share. A 45 percent increase in quarterly dividend obviously makes the stock more attractive to investors.
In a conference call at the time of the most recent quarterly filing, Chief Executive Ron Havner explained that the storage rental market touched bottom in fourth quarter 2009, and the market is now on a slow mend.
"Asking (rental) rates are at or modestly above last year and turning better each month," Havner said. "Going into the second quarter, we expect top-line revenue trends will continue to improve."
David Harris, an analyst at Gleacher & Co. in Greenwich, Conn., said that investors are also looking forward to better times ahead.
"The expectation in the capital markets is that we are in the early stages of an extended recovery that will generate additional demand for floor space in storage," he said. "Over time we can expect earnings to grow."
Harris noted that Public Storage's year-to-date gain of 15 percent looks particularly good compared with the Standard & Poor's 500 Index, which has been flat in 2010.
Harris rates the stock as "neutral" because he feels it's overpriced due to the recent run-up, which made Public Storage shares expensive compared with other self-storage industry REITs, such as U-Haul, Sovran Self Storage and U-Store-It.
"The principal negative aspects of the story relate to Public Storage's relatively high valuation and more generally to concerns about the economy and the state of the residential market," he said.
David Doll, senior vice president for real estate at Public Storage, said business went down during the recession because people didn't have money for space rentals. In order to keep business, the company cut rates and offered discounts, such as the first month free.
But Public Storage wasn't hit as hard as other REITs because families were moving as a result of the recession. When that happens, people use storage space.
In 2008, the company's overall occupancy was 89.5 percent, but it dropped to 87.1 percent in 2009. So far this year, it has recovered to 88.9 percent.
Doll said the rising occupancy has allowed the company to raise rental rates. In May, the company started mailing letters to established customers warning them that rent hikes would occur over the summer.
"As demand has increased, some of those older leases need to be brought up to date," he told the Business Journal.
Paul Adornato, an analyst at New York-based BMO Capital Markets, upgraded Public Storage stock to "market perform" on June 4. While he's concerned that rising rents could hurt business, he said that the company will be able to withstand that pressure better than competitors because it has enough cash on hand.
"A return to rent growth could be skittish as self-storage operators work to wean users off a period of heavy discounts," he wrote in a research note. "However, we think Public Storage's current valuation more accurately reflects these risks, and that one of the healthiest balance sheets in the industry provides a comfortable security blanket."
Acquisition time
One factor pushing up Public Storage stock is the potential for growth through acquisitions. With more than 2,000 storage facilities, the company is already the largest player in the industry, but most self-storage facilities are small standalone operations.
In April, Public Storage announced that it had acquired 30 self-storage facilities for $189 million from A-American Self Storage Management Co. in Los Angeles. Twenty-eight of the facilities, totaling 1.8 million square feet, are in the L.A. area.
Doll said Public Storage is ready to buy more.
"We have been conservative financially the last two years to be in prime position for the right opportunities," he said.
So far this year, Doll has looked at potential acquisition properties totaling 11 million square feet with a market value of $1.1 billion.
Harris, the Gleacher & Co. analyst, said that as Public Storage absorbs new facilities, there are many potential advantages, including savings in marketing, customer call centers and general administration.
The A-American facilities joined Public Storage with an average occupancy slightly more than 80 percent. In the conference call, Havner said he plans to bring that up to the company goal of 90 percent within a year.
Harris also noted that Public Storage has a large operation in Europe – in 2006 it bought the Shurgard chain with 187 facilities, and company revenue more than doubled from 2007 to 2008 as a result. The European holdings make Public Storage more vulnerable to currency fluctuations with the euro than its competitors, which are North American-based.
For reprint and licensing requests for this article, CLICK HERE.