Ali Kasikci: Room to Relax
Q&A: Intensity helped Ali Kasikci rise to the top of the hotel industry, and now bike rides with his cardiologist help him cope with the stress.
Monday, July 5, 2010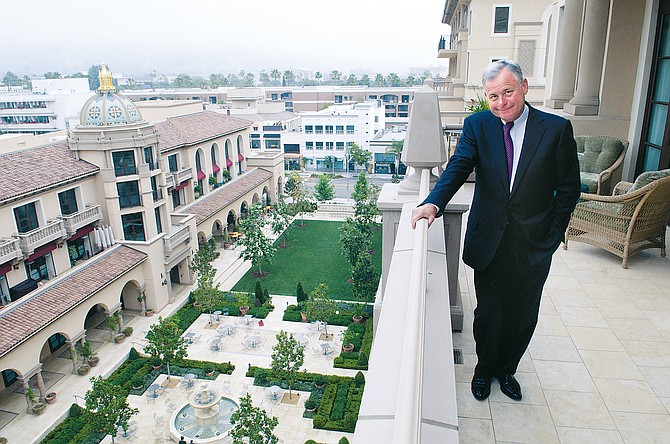 Ali Kasikci made his name in the L.A. hospitality industry during his tenure as general manager of the Peninsula Beverly Hills. He remembered his guests' favorite soft drinks, and knew by sight whether the woman they were arriving with was a wife or mistress. Kasikci got an inauspicious start. His grades were poor, and his father thought he could not take a rigorous course load, so he sent 15-year-old Ali from their native Istanbul in Turkey to study for a career in hospitality at the Hotel and Catering College in Germany. Kasikci, now 54, worked at hotels in Germany and casino resorts in South Africa before joining the Four Seasons Hotel Newport Beach in 1987. Five years later, he was named general manager of the Peninsula, where he would spend 16 years. His move to the Montage was a noteworthy event in the industry. Kasikci puts so much intensity into his work that he's had to learn to relax. He now spends Saturday mornings cycling along the Los Angeles River with his cardiologist. Kasikci sat down in an ornately decorated Montage Beverly Hills residence with the Business Journal over several cups of coffee to discuss growing up in Turkey, coming to America and his admiration for lyricist Hal David.
Question: You've got a big cup of coffee there. How much do you drink a day?
Answer: I started cutting it down a lot. I used to drink about 10 to 15 cups a day and I would say now I'm under 10 cups. First of all, I changed to decaf, so I don't drink regular anymore. And secondly, I don't think I'm addicted to coffee; I just like the taste. To me the taste is more important than the coffee.
What was it like to open the Montage Beverly Hills during a recession?
We got the Montage ready for a healthy economy and a month before we opened, the wheels came off. You can't do much at that stage. You have to hope for the best.
If you knew the economy was going to collapse, would you have done anything differently?
No. We opened with a full staff, and never laid anybody off and we continued to operate. We made some adjustments, but all the adjustments we made were without sacrificing quality. The biggest mistakes you can make are adjustments that mean cutting the quality – you are not shedding the fat, but you are cutting into the muscle and hitting the bone.
But I imagine opening a luxury hotel during a weak economy was stressful.
Yes, opening the hotel has been very stressful. And of course in this economy, it's been understandably stressful. As a result that of that stress, I wasn't being as productive and effective as I wanted to be. So now I have, on the recommendation of my doctor, started to exercise.
What kind of exercise?
I cycle now. I try to do almost 100 miles per week. My cardiologist is one of my cycling partners and he phones me on Friday or Saturday night saying, "You are coming tomorrow to cycle with me," and I say, "Yes, sir."
What was childhood in Istanbul like?
It was simple, safe and straightforward. Turkey was laughably backwards when I was growing up. We didn't have TV until the 1970s and when we had it, it was only one channel for four hours a day. And things like blue jeans are things that I couldn't get in Turkey. If you didn't leave Turkey to experience and see the world, then you would have been very limited because there is no way that 1960s and 1970s Turkey could have prepared you for the demands of the world.
So how did you prepare for the demands?
I left Turkey at the age of 15 and a half and went to Germany, and that's where I did my high school and hotel school education. My parents thought that I would receive a much higher-quality and better education than I would have received at the time in Turkey.
Why did you decide to go to hotel school?
I was very lousy, academically. I barely passed my classes and my father knew that there was no way I could study law, medicine, engineering or anything like that. So he made the decision that I would go into the hotel business.
What did your parents do?
My father was a medical doctor and my mother never worked.
So your mother was a stay-at-home mom?
We were lucky enough to have help. So it wasn't really necessary for her to get up in the morning to cook breakfast. But there is no doubt about it that it was a stable home life having her around at that age.
Did you have trouble adjusting to a new life when you left Turkey?
The biggest difference was at home, every morning I would dress and there would be clean socks, clean underwear and clean things to put on. And the first week I was in Germany, I opened the drawer and there was nothing there. And I remember it very clearly, I had to go to a 7-Eleven-type store in Germany and buy some washing powder. And I put the powder in the sink and washed all my clothes and laid them on the heating unit and sometimes I overheated them. It was really interesting how quickly you realize the infrastructure you had around wasn't there and that made me grow up quickly.
What else did you learn from being on your own?
There wasn't a breakfast every morning when I woke up. One thing I learned at the time, always eat a big breakfast because you never know where your next meal is going to come from. And your instincts kick in very quickly at 15 and a half and you become your best friend, your soul mate, your confidante and you just become a survivor, and hopefully that makes you a flourisher.
Did you return to Turkey after finishing hotel school?
The idea was to go to school and come back. But then you say, "No, let me stay a little longer and get a little more experience here." And then you are itching and you want to discover the world and then you start discovering the world, but always with the intentions of going back, and then one day you look and it's been 20 years.
When did you come to the United States?
I came to the states in 1987. I came to Southern California and I had a good job offer and I joined the Four Seasons in Newport Beach. I had been living in South Africa for 10 years, so I was used to the warm climate and sunshine. After five years at the Four Seasons in Newport Beach, I moved to Beverly Hills and I've been in Beverly Hills for 19 years.
You moved to Beverly Hills to join the Peninsula and served as the general manager there for about 16 years. That's a long time to stay at one hotel.
I arrived at the Peninsula as a boy and I left there as a man. Sixteen years is a lifetime when you are a hotel general manager, 16 years could mean 16 jobs. I had to reinvent myself during those 16 years about three times. It was a very enjoyable job because I settled in Beverly Hills and I loved the people and the community.
How do you feel about what you did there?
Because of the advantage of time, I was really able to see the results of my decisions. Nobody can say "he left a mess behind." No one can say the success the Peninsula achieved over that 16 years can't be attributed to Ali Kasikci. Time has proven that I played a role.
You developed the reputation of knowing every detail about your guests – in some cases, being able to recognize their wives and mistresses by sight. How did you do that?
We keep records on each guest and staff members observe things and they have little cards that they fill out and send in confidentiality. And then we have one person who fills out each file and we keep it confidential.
What's the most extravagant request a guest has ever had?
We had a guest who wanted to fly her little Jack Russell terrier to Los Angeles from London and she didn't want her to dog to travel in cargo. She was willing to charter a private jet for $100,000 to pick up the Jack Russell and fly it to Los Angeles and when I heard that, I said, "I can't have you do that." I got someone to fly to London and get the dog and bring it to Los Angeles; I saved the guest more than $90,000.
Did many Peninsula guests follow you to the Montage?
Some who I had relationships with still stay at the Peninsula and we still have a good relationship. And others, a large number, are over here with us and they are very happy.
Has it been difficult trying to sell the Montage residences?
The start was very slow. The hotel has been open for 18 months and we've been marketing the residences for about 12 months now. But the new structure we've created and the new systems we've been put into place have been very successful. I can say we've sold almost 50 percent of the residences.
What changes have you made to help sell the units?
We made it easier for people to access us and get information. They heard so much about us through our public relations efforts, marketing efforts and through my efforts. It has really made a difference.
Does your wife work?
She doesn't work. She is very involved in the community with charitable work. She is very active with the American Cancer Society, the Blue Ribbon and the LACMA Costume Council, all of which helps to cultivate relationships.
Do you have any children?
We have no kids. But we have two beagles, Billy Bean and Ivy, and they are more like kids than anything else. They are very spoiled, very entitled. They love attention and they think they are humans.
Why didn't you have children?
First came the career and by the time we could say, "Let's start a family," it was a little too late. So then we decided to be very selfish. Our friends say, "Your beagles are not going to bring home a girl or a boy that you aren't going to like, they aren't going to come home late at night and they aren't going to bring a bad report card home from school."
What's the best advice you've ever received?
One of the best pieces of advice that I got was the first time I became a general manager. The boss basically said to me, "You need to have two things in this business to be successful: One is integrity and the other one is wisdom." Integrity means you have to deliver what you promise every time, even if you are going to lose money on it. And wisdom is not to make any idiotic promises that you lose money on.
Who have been the most influential people in your life?
There have been many. When I came to Beverly Hills, Rodeo Drive retailer Fred Hayman really taught me what style is all about and how much more you can achieve by being a gentleman. And people like pop lyricist Hal David, who taught me that being rich doesn't make you a different person. I have been influenced by people within and outside the industry. From inside, I learn what not to do and from people outside, I learn what to do.
How did you become friends with Hal David?
In 1975, I was in the Godforsaken country of Lesotho. And Dionne Warwick came to sing at a hotel in the region and a group of people chartered a single-engine plane and they flew to see Dionne Warwick. But I couldn't afford it, so when they came back they brought me an LP of Dionne Warwick. I saw the name Hal David, so it got stuck in my mind. When I came to Beverly Hills, Hal David was at the Hillcrest Country Club and I said I would like to meet this Hal David. Since then, we've become such good friends that we travel to Africa together.
What's your favorite Hal David song?
I can listen to his music 24 hours and never get bored, but the one that I like most is a song called "It Was Almost Like a Song." I heard it in 1979, and it was the Johnny Mathis version.
Where do you vacation in Africa?
We go to Southern Africa. There is enough there to keep you occupied for many years. I love the people and the nature, it's God's country. I like the wildlife, the animals and safaris. And I love their wines, I love their ocean, and I also have my friends there. When you leave Africa, you leave part of your soul. You always have to go back and collect it, that's what I do.
Do you ever go back to Turkey?
I don't travel to Turkey often. I can only take extended vacations every two years and Southern Africa takes priority over Turkey.
Were you raised Muslim?
I never practiced religion and when I went to Germany, I started using the Lutheran Church because we used to go at Christmas time to midnight masses. When I moved to South Africa, I needed to have a religion to immigrate there. So I went to a Protestant Church and got baptized as a Protestant. I also believe in many qualities of the Jewish religion and some people think I'm Jewish. But I look at the church as a house of God and I'm a strong believer in God, but don't have a religion.
When do you see yourself retiring?
I think my definition of retirement is different than others'. My definition of retirement is you work because you want to, not because you have to. At the moment, I work because I like my work but also because I have to work. But hopefully in four or five years, I will reach the position where I work because I want to, not because I have to. And then I will be retired.
So you don't have plans to stop working and move to South Africa?
No, California is home. However, when I have more time on my hands I will probably travel around and do more philanthropic work. But I'm never settling anywhere else but California or Los Angeles for that matter.
ALI KASIKCI
TITLE: Vice President of Strategic Planning and Development
COMPANY: Montage Hotels & Resorts
BORN: Istanbul, Turkey; 1956
EDUCATION: Hotel and Catering College in Germany; M.B.A., Peter F. Drucker and Masatoshi Ito Graduate School of Management at Claremont University.
CAREER TURNING POINT: Becoming general manager of the Peninsula Beverly Hills.
MOST INFLUENTIAl PEOPLE: Fred Hayman and Hal David
PERSONAL: Lives in Los Angeles, near Bel Air; married with no children.
ACTIVITIES: Cycling, golf, traveling.
For reprint and licensing requests for this article, CLICK HERE.