Looking Sharper
Burbank's 3ality sees a bright future for 3-D TV-production gear.
Monday, January 25, 2010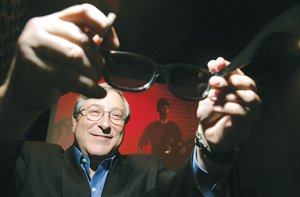 For the last three years, technicians and engineers at 3ality Digital LLC were developing gear that production companies would need to do live television broadcasts in 3-D.
But the demand for their hardware and software didn't exist yet – there were just a handful of 3-D televisions in American households, and no 3-D channels.
Now, 3ality's time may finally have arrived.
Earlier this month at the Consumer Electronics Show in Las Vegas, a slew of major electronics manufacturers announced they would roll out 3-D TV sets as early as this spring. Meanwhile, ESPN, DirecTV and Discovery Communications Inc. unveiled plans to launch channels showing 3-D programs.
The surge of interest is a powerful boost for Burbank-based 3ality, which sits in a nondescript warehouse a stone's throw from the Golden State (5) Freeway. For years the company positioned itself as a leader in a market that essentially didn't yet exist: It designed and built camera mounts – which hold and synchronize the two cameras needed to shoot in 3-D – as well as production equipment and software for editing and broadcasting 3-D TV. All that time, however, there were few people filming programs in the format and even fewer people watching them.
As anticipation for in-home 3-D builds, 3ality's phones started lighting up with inquiries from broadcasters around the world. Two weeks ago, 3ality announced a deal with BskyB, one of the leading entertainment companies in the United Kingdom, which will put 3ality's technology behind a 3-D TV service in the United Kingdom and Ireland. More deals with major companies in North America and Asia could be on the horizon.
The Burbank firm should reap immediate rewards as broadcasters whet consumer appetite for 3-D programs, said Riddhi Patel, principal analyst at research firm iSuppli in Santa Clara.
"This is the next big thing for TV, and companies that are ready right now have an advantage," Patel said. "I think there is a potential of substantial growth in the next two to three years."
For Sandy Climan, 3ality's chief executive, it means his company will take on a higher profile in the broadcast industry.
"For them to really bring 3-D into people's homes, they need us," he said.
A closely held private company with one investor – the Modell family, which owned the Cleveland Browns football team that moved to Baltimore – 3ality does not disclose revenue. Climan said its growth has been exponential and that the company would hit profitability this year.
Prev Next
For reprint and licensing requests for this article, CLICK HERE.