Firm Foothold
CORPORATE FOCUS: Footwear maker Skechers' stock has soared with two new product lines and a trend-spotting CEO.
Monday, January 25, 2010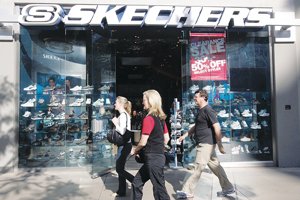 Early last year, things were looking pretty bleak for Skechers USA Inc., with its stock trading at just a fraction of its 2008 price.
Today, though, the Manhattan Beach footwear maker is alive and kicking, buoyed by a slate of new products and a string of strong quarterly earnings.
Shares have run up more than 500 percent in the last 10 months for the maker of trendy but affordable casual footwear.
"They're going gangbusters," said Sam Poser, an analyst with Boca Raton, Fla.-based Sterne Agee & Leach Inc., who rates Skechers' stock a "buy." "They can anticipate trends well (and) they've been doing a great job on the product of late."
Skechers is nothing if not ambitious. Despite the punishing retail environment, the company in the past year expanded its presence in South America and other international markets, announced the launch of eyewear and medical apparel product lines and signed hall of fame quarterback Joe Montana to an endorsement deal.
But what's mostly winning Skechers raves today are two new products: character-themed children's shoes and, especially, Shape-Ups, a new-fangled shoe the company claims can tone wearers' legs. The funny-looking shoes have rounded soles, which supposedly exercise the leg and core muscles by forcing them to compensate for the footwear's instability. "Get in shape without setting foot in a gym," the company says in advertisements.
Though the effectiveness of such footwear has yet to be proved, the unusual shoes have become popular with consumers and have pushed Skechers to the forefront of what many now see as an emerging trend of so-called "wellness" footwear.
"The Shape-Ups are helping define the wellness category," said Lawrence Creatura, manager of the Federated Clover Small Cap Value fund, a Rochester, N.Y., mutual fund that holds Skechers in its portfolio.
While not every new product line has proved successful for Skechers, the company has worked to set itself apart in the market, he said.
"It's very hard to find consumer products with differentiation today," Creatura said. "Retail is a vast array of sameness where most companies compete solely on price. Skechers has a differentiated product that consumers shop for with passion. That's a rare attribute these days."
Darker days
For Skechers, however, the shoe was on the other foot a year ago.
The company was sued by Crocs Inc., a Niwot, Colo.-based company that claimed Skechers ripped off its signature brightly colored plastic clogs. As a result of the litigation, Skechers was required to stop making its Cali Gear line of footwear, wiping out what had been a heavily promoted line.
Meanwhile, failing to anticipate the depths of the recession, executives built up their inventory in late 2008, only to get stuck with too much product as vendors cancelled orders. Amid heavy markdowns, the company reported a loss of $20.4 million for fourth quarter 2008 on sales of about $300 million.
The disappointing news accelerated a slide in the company's stock, which hit $5.20 a share March 12, the lowest level since first quarter 2000.
Columnists began questioning the 18-year-old company's ability to weather the recession, throwing out bleak phrases like "train wreck," "ugly" and "faddish cash burn."
Still, some optimists hinted at the value that remained in Skechers. Debt, at just $17 million, was low and the company had $115 million in cash. Sure enough, though the retail industry continued to struggle, Skechers began to turn things around almost immediately, reporting a profitable first quarter.
"In the first quarter, our focus was on reducing our inventory and expenses while maintaining our strong position in the domestic and international footwear markets," said David Weinberg, chief operating officer, in a statement after the earnings announcement. The company declined to comment for this article, saying it's in a quiet period before reporting earnings next month.
In July, the company announced that it had closed a $250 million credit facility, which executives said would be used to fund growth. The news helped kick the company's stock out of a funk and start an upward trend that would continue, aided by strong second and third quarter earnings, through the rest of the year. On Jan. 14, shares hit $31.45, the highest level in two and a half years.
What's more, the company said this month that it expects record sales and profitability when it reports fourth quarter earnings Feb. 17. The four analysts who follow Skechers are mostly bullish on its outlook, giving the stock ratings of "buy," "strong buy," "positive" and "market perform," even though the stock has already exceeded the consensus 12-month target price of $29.
Poser, of Sterne Agee, said he is not surprised the company has come back with such a vengeance: Investors know that Chief Executive Robert Greenberg is aggressive and has a keen sense of what trends will resonate with consumers, such as Shape-Ups.
"He's a mad scientist when it comes to this stuff," Poser said. "He just has a way of picking what his consumer will buy."
Still, Poser cautioned, the company has shown a disconcerting habit of overspending on marketing each year. If the product is good, then the marketing pays off, but that does not always happen.
"They're definitely on a roll, but we've seen this before," he said. "We're just hoping that they don't do anything (unwise)."
For reprint and licensing requests for this article, CLICK HERE.