Name Game
Santa Monica's Premier Partnerships is moving beyond the world of sports with sponsorship deals involving governments and other clients.
Monday, December 6, 2010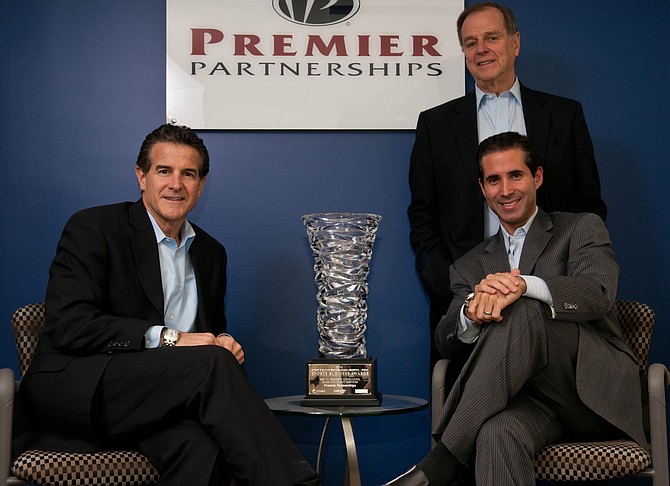 For the past several months, one of the country's best-regarded sports marketing boutiques has been looking for corporate sponsorships for an unlikely client – the Los Angeles Unified School District.
The cash-strapped district has begun considering the corporate world for sources of revenue, and it's turned to Premier Partnerships Inc., which has made a reputation selling naming rights and other sponsorships for sports stadiums and teams. Now on behalf of LAUSD, the Santa Monica firm is exploring everything from report card sponsorships to naming rights for the schools themselves.
The idea highlights the spread of naming right and sponsorships into areas once considered off limits – and Premier's attempts to expand outside the sports world, where the recession has shrunk marketing dollars.
"Everyone's looking to figure out how to get a little more money out of what they own," said firm co-founder and Chairman Alan Rothenberg, former president of the Los Angeles Clippers and one of the founders of Major League Soccer. "People who ignored it before when they were doing fine are saying, 'Boy, if I can find a way to squeeze a few more dollars without adding anything, if it's something I already have, it's worth it.'"
Indeed, the LAUSD program, which the school board has yet to sign off on and will consider at its Dec. 14 meeting, is one of about 10 projects Premier is handling for government agencies. The firm also is working with the state of Georgia to sell naming rights to rest stops, and with New Jersey to sell sponsorship of its toll booths.
As corporate sponsors have become more careful with their investments, selling sports sponsorships has expanded far beyond just the naming rights of a stadium.
Like some competitors, Premier has moved into beverage rights, banners, parking lot signage and other assets. This year, the firm brokered a deal that earned $1 million for the Rose Bowl and Tournament of Roses. Passion Growers, a Miami-based rose supplier, agreed to pay that sum in exchange for being designated the official supplier of roses to the stadium and game for the next four years.
"It's a different world of sponsorship today than it used to be; there are less dollars and people scrutinize every sale," said Sheri Wish, chief revenue officer for the Tournament of Roses. "A lot of agencies out there are strictly driven by ratings or impressions, but (Premier) gets the difference and is very creative in their approach."
Fast growth
Premier has come a long way since it was founded in 2003 by Rothenberg, who also is chairman of 1st Century Bank in Century City, and Chief Executive Randy Bernstein, a veteran sports marketer who had most recently worked at Yahoo.
Rothenberg and Bernstein invested about $50,000 of their own money, and for the first six months Bernstein's Marina del Rey condo served as headquarters. The company moved to Century City after that, and recently again to Santa Monica for more space. It also now has single-person offices in Dallas, Cleveland and New York.
This year, the 12-employee firm won an award from the Sports Business Journal as the best property consulting, sales and client services team in the country. It beat out much larger competitors such as IMG World and Wasserman Media Group, an L.A. competitor.
The company is able to hold its own against much larger competitors partly because of the experience of its team, said Terry Lefton, editor at large at the Sports Business Journal.
"Sports marketing is the biggest who-you-know business in America, and between Alan and Randy they know everybody," Lefton said. "They know everybody on the sports side, everybody on the marketing side, and when they have something to sell they know who to go to."
Indeed, the firm has deep experience with Rothenberg, who was behind one of the first modern naming rights deals. He represented Great Western Savings & Loan in its early '80s deal to change the name of Inglewood's Forum to the Great Western Forum.
But the firm also knows its limits. Premier focuses on sponsorship sales, valuation and consulting, which involves estimating the marketing value of a client's assets. However, unlike its larger competitors, it does not offer services such as logo design, athlete representation or event promotions.
"If you're just doing business on things you're good at and not great at, you will fail," Bernstein said.
Pushing boundaries
However, Lefton said the company's small size and lack of global reach does have its limitations.
"I don't think you're going to find a billion-dollar brand coming in the door and saying, 'Design a marketing program for us from A to Z,'" Lefton said. "I don't think anyone's going to come in and say, 'Can you design a logo for us or design advertising for us?' That's not what they do."
What they do excel in is pushing the boundaries of marketing, for clients in and out of the sports world. In the Dallas suburb of Frisco, for example, it sold as a package sponsorship the rights to the stadium where the MLS club FC Dallas plays. The stadium is now called Pizza Hut Park and the package, also sold to other companies, included rights to sponsor local youth soccer leagues.
On behalf of LAUSD, the company has been targeting beverage, telecommunications, apparel and computer companies, and theme park operators, among others, about a variety of possible partnerships.
Melissa Infusino, LAUSD director of partnerships, declined to comment, but Chief Operating Officer Jeff Marks said creative partnerships could earn the district millions.
"It could say 'LAUSD report card presented by Kellogg,'" said Marks, illustrating a possible type of sponsorship. "The lifetime value of a customer for certain brands is worth so much money. So if you're Nike or Kellogg, if you can get a 7-, 8-, or 9-year-old to touch your product, you know you could potentially have a client for life."
Premier Partnerships Inc.
FOUNDED: 2003
HEADQUARTERS: Santa Monica
CORE BUSINESS: Selling sponsorships for sports arenas and teams.
EMPLOYEES: 12
GOAL: Adding more nonsports clients.
THE NUMBERS: Annual revenue tops $2 million; growing 15 percent annually.
For reprint and licensing requests for this article, CLICK HERE.