Eight Over 80 - Stefano Riboli and Maddalena Riboli
Special Report: EIGHT OVER 80
Monday, December 6, 2010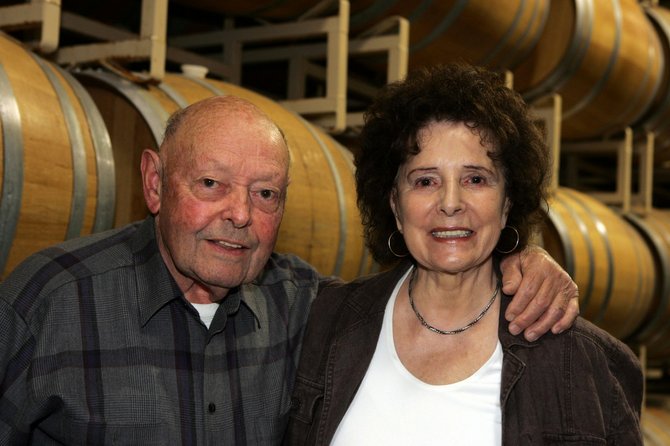 Stefano Riboli | 89 | and Maddalena Riboli | 87 | Owners, San Antonio Winery and Maddalena Restaurant
Maddalena Riboli spends most of her workday in the kitchen of her Italian restaurant, making sure the eatery's signature raviolis have been cooked to perfection.
But when she leaves Maddalena Restaurant at about 5 p.m., her husband is still working at their family-owned San Antonio Winery in the same building. He spends more than 50 hours a week at the winery, mostly selling bottles of the Riboli Family Vineyard's cabernet sauvignon and other vintages to walk-in customers – some who've been buying the wine for generations.
Stefano and Maddalena Riboli said they continue to work because it keeps them healthy. (As does a glass of wine with dinner every night, of course.)
"If I stay home for two or three hours, I'm already tired," Stefano Riboli said. "But I come down here and I feel better. The pains that I have at home disappear."
His uncle started San Antonio Winery in 1917 in what is now the Lincoln Heights neighborhood of Los Angeles. Stefano Riboli started working there in 1938, when he emigrated from Italy to Los Angeles at 16. He's lived in Los Angeles for 73 years, but still speaks English with the accent of his native land.
Riboli met his future wife, whose family is also from Italy, in 1945 through a mutual friend. At the time, she was working at her family's farm in Rancho Cucamonga. He proposed to her on their second date but initially, she was skeptical of his intentions.
"I said, 'Is it because you need me to work at the winery and do your cooking and cleaning?'" Maddalena Riboli recalled. "And he said 'Oh, no, not at all. It's because I love you.'"
Sentiment aside, they married in March 1946 and she went to work at San Antonio alongside her husband and his uncle. The couple inherited the winery in 1958.
By that time, the majority of wineries that once operated in the area had disappeared. But the Ribolis managed to prosper by adding a mom-and-pop general store; gift shop; tasting room and sandwich counter, which eventually became the restaurant.
The couple doesn't work as hard as they used to, but they are still involved in the winery's day-to-day operations. The family owns vineyards in Napa Valley, Paso Robles and Monterey, where their wine is made. The San Antonio Winery space now houses a restaurant, tasting room, gift shop and space for private events.
The Ribolis drive separately from their San Marino home to the winery every day since Stefano Riboli works longer hours.
Maddalena Riboli is more up to date on technology than her husband. While the couple doesn't use e-mail, she's got a cell phone and has been pushing her husband to use one, too. He doesn't have that many numbers to call, she said: just her, their children and the winery. And it's not that difficult to master: "When you hear vroom, you pick it up," she said.
But they agree on one thing: People who want to work well past 65 should continue to work hard and try doing things different ways.
"You have to take chances," Stefano Riboli said.
For reprint and licensing requests for this article, CLICK HERE.