Eight Over 80 - Stan Lee
Special Report: EIGHT OVER 80
Monday, December 6, 2010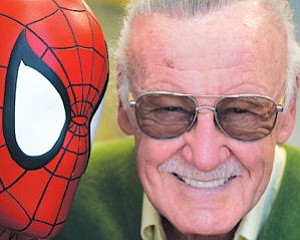 Stan Lee, | 87 | Chairman, Chief Creative Officer, Pow Entertainment
Stan Lee says he's having too much fun to retire. There aren't enough hours in the day to do everything he wants to do, and now that he's 87, he works more now than he did in his 40s and 50s. And he enjoys it more.
"Most people say they retire because they want to do other things. If I were to retire, the only thing I would want to do is go back to work," Lee said.
Lee is best known as co-creator of Marvel Comics superheroes such as Spider-Man, Hulk, X-Men, Fantastic Four, and Iron Man. He still serves as chairman emeritus at Marvel, which was acquired by Walt Disney Co. last year.
In 2001, he formed Pow Entertainment, a Beverly Hills company focused on character creation separate from Marvel. He serves as chairman and chief creative officer for the company. Disney purchased a 10 percent stake in Pow earlier this year and holds first rights to any movie screenplay developed from its characters.
Lee drives to Pow's Beverly Hills office three days a week, working from about 8:45 a.m. to midafternoon. When he returns home, he spends time writing. He works at Disney's Burbank offices the other two days a week.
He says that his wife doesn't mind that he still works because she knows it makes him happy and they are still able to spend lots of time together. However, they've never officially taken a vacation. Lee said that he travels plenty to comic book conventions that take him around the world, but there's always a business element.
He doesn't have a regular exercise routine, and tries for moderation in eating and drinking. Beyond that, he thinks luck plays a major role in his health, although he wishes that his eyesight and hearing were a little better.
Lee has kept up to date with technology: He loves to Twitter – @therealstanlee – at work or from his home computer. He has more than 100,000 followers, and calls them "Brigadiers." He updates his Twitter feed with messages about current projects and appearances that he's scheduled to make.
"I have to do it everyday before I go to bed," he said. "I can't let my Brigadiers down."
The key to working past 80, he said, is to work at what gives you pleasure.
"I enjoy what I do," Lee said. "I enjoyed it when I was 20, when I was 50, when I was 70 and I enjoy it now. Be sure you're doing work you love, because in that case it won't seem like work – it'll be like playing at your hobby – and no one ever tires of that."
For reprint and licensing requests for this article, CLICK HERE.