Long Beach Bridge May No Longer Be Up in Air
TRADE & TRANSPORT: Panel expected to clear way to replace Gerald Desmond.
Monday, August 9, 2010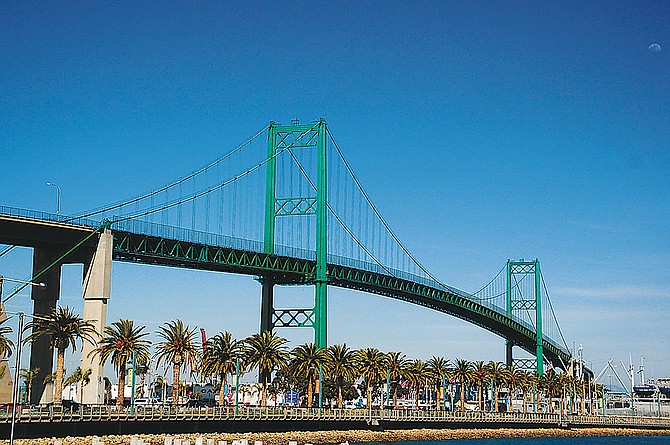 The Long Beach Board of Harbor Commissioners is expected this week to approve the final environmental impact report for a structure to replace the ailing Gerald Desmond Bridge, which connects Long Beach and San Pedro.
The action, anticipated at the board's Monday meeting, could clear the way for construction to begin as early as next year on the bridge.
"It's critical that we replace the Gerald Desmond Bridge now rather than continue to pour money into maintaining a structure with major shortcomings," said Port of Long Beach Executive Director Richard Steinke.
The bridge, expected to cost nearly $1 billion, will replace an aging but vital cargo span that carries at least 15 percent of the nation's goods from the ports of Long Beach and Los Angeles.
Opened in 1968, the bridge – named for a former Long Beach councilman and city attorney instrumental in obtaining its construction funds – is literally falling apart. In recent years, the port has had to install special netting beneath it to catch falling concrete chunks.
The environmental report, released earlier this year, did not find any major impacts from replacing the bridge.
In addition to offering added lanes for improved traffic flow and shoulders to keep traffic moving in case of breakdowns, the new bridge will be built 40 feet higher to accommodate the larger modern ships expected to pass beneath it. It also will be built to current seismic standards.
The project has already secured $750 million in federal, state and port funding, and is expected to get the remaining money from the same sources, said port spokesman Lee Peterson.
Assuming the harbor commissioners approve the environmental document, the next step will be to complete the final design, with construction expected to begin in early 2011. The bridge is expected to take five to six years to complete.
Shipyard Snub
The chief executive of Gambol Industries Inc. said he intends to fight a report that recommends the Port of Los Angeles terminate its relationship with his company, which wants to build a shipyard in San Pedro.
"We need to properly respond to the report," Robert Stein said. "We disagree with practically all their statements in there."
The staff report recommends that the Los Angeles Board of Harbor Commissioners reject Gambol's plan to build a shipyard at the site of the now-abandoned Southwest Marine on the southwest corner of Terminal Island.
The report objects to Gambol's proposal on several grounds, most notably that it could delay the port's plans to dredge and deepen its main channel. Sludge from the project is to be dumped at the abandoned terminal.
Prev Next
For reprint and licensing requests for this article, CLICK HERE.