Courtly Manner
John Quinn turns to Shakespeare, climbing mountains and bird-watching when not running litigation-only firm Quinn Emanuel.
Monday, April 26, 2010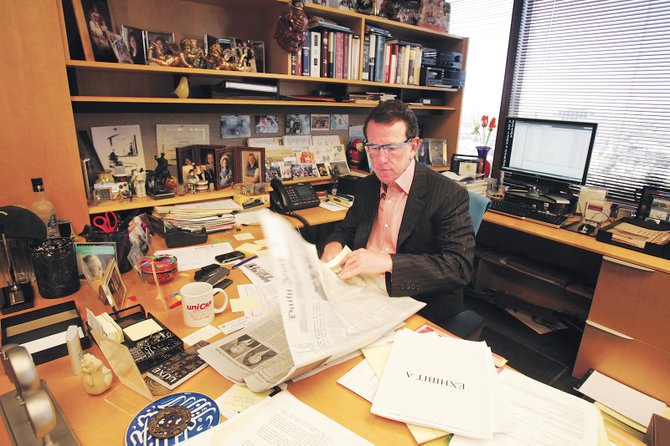 John Quinn, people would have you believe, is the toughest guy since Chuck Norris. He's run with the bulls, scaled mountains and has completed triathlons. The founder of Quinn Emanuel Urquhart & Sullivan LLP has taken what in 1986 was a four-lawyer team and built it into a fleet of hard-nosed litigators with offices in four countries. In the last seven years, the litigation-only firm has won four nine-figure jury verdicts, including Quinn's $100 million verdict favoring Mattel Inc. in its battle with rival MGA Entertainment Inc. over ownership of Bratz dolls. In 2007,Quinn became the only L.A. firm to crack $3 million in profits per partner. "Justice may be blind," brags Quinn Emanuel's chest-puffing Web site, "but she sees it our way over 90 percent of the time." Up close, however, John Quinn projects an open, easygoing attitude, shuffling shoeless around his office and pausing for almost a full minute in the middle of one sentence before talking again – reflective of a man who loves literature and revels in the natural world. Dressed in a T-shirt, jeans and gray socks, he met with the Business Journal in his downtown L.A. office to discuss the serendipity of bird sightings, Shakespeare's "The Tempest" and the profound power of decision-making.
Question: The Mattel decision might be your most famous case. Was it the most satisfying?
Answer: I've really been surprised by the amount of press attention that that case has received. For us, it was a pretty straightforward case of theft of intellectual property. We got a money judgment of $100 million, and we had actually hoped to get a larger money judgment, and that was frankly a little bit of a disappointment. I don't know if it's any more satisfying than about 10 other cases I could name.
That's a big statement to make.
The first thing to know about our firm is that we only do litigation. A lot of major firms won't try a single case in a year.
So you're obviously in the minority on that, no?
We don't see it as just a crapshoot. A lot of people say that you never can predict what a jury's going to do, but we don't believe that. You should understand your case well enough that you have a pretty good idea of what a jury's likely to do.
How does this all reflect your personality?
I don't think that being a shrinking violet is a good model for how to go about advocating your client's point of view.
I read you went running with the bulls in Pamplona. What was it like?
It's really dangerous, not so much because of the bulls I think, but because of the number of people in the street. It's a closed route from the pens to the arena, and you can go out there on the road in advance and kind of plot, "Well I'm gonna start running here and I'm gonna run to here and try to duck off here," and try to decide what you're going to do.
And you did that?
Tried to! But the problem is that it's such a crush of people that you're not controlling your own destiny. In my case somebody fell down in front of me, so I fell down on them, and then somebody fell down on me – so I was in a dog pile with these bulls bearing down on us. All my plans were to no avail.
Then what happened?
I got out of it and jumped in a doorway in time.
Why'd you do it?
Probably read too much Hemingway when I was a kid.
"The Sun Also Rises"?
"The Sun Also Rises" and, you know, James Michener's book "Iberia." Ever read that? It's a good book.
What are you reading now?
I'm reading a book about Montaigne's thinking called "How to Live: A Life of Montaigne in One Question and Twenty Attempts at an Answer." I just read a book called "Start-Up Nation," which is about the technological innovation in Israel. And I recently read biographies of Charles Dickens and Leo Tolstoy. I like literary biographies.
Why?
I guess I'm fascinated by this gift of literary genius and how is it that some people have the ability to convert insights into life into words on a page and create art out of it. I don't know why authors as opposed to painters interest me, but they do.
Well, you've got this doorstop of a Shakespeare book on your coffee table.
(Laughs.) You know, I've tried to use Shakespeare in briefs but it's hard to do it and not sound either pretentious or kind of hackneyed.
Favorite Shakespeare play?
I like "Henry V," although it's kind of a bit bombastic and chauvinistic.
The Saint Crispin's Day speech, for example?
Yeah! (Laughs.) I like "Henry V." I also like "Troilus and Cressida." Oh, I love "Romeo and Juliet." I like "The Tempest."
Favorite passage?
"The Tempest." "We are such stuff as dreams are made on; and our little life is rounded with a sleep." How does the rest of it go? It's over there on my wall.
What about it? Why do you have it on your wall?
It's just our attitudes toward things, which can change from moment to moment. A lot of the things that we worry about, you can step back a little and realize, it's really the stuff dreams are made of. It's just here today and gone tomorrow. There's an awful lot to your attitude – like the attitude of deciding, deciding you're going to do something.
When you are not reading, what do you like to do in your free time?
I've done about a dozen triathlons and marathons around the world, including the Ironman triathlon in Hawaii, which I've done twice. So I'm kind of a workout fanatic. I also have five children and three grandchildren, so they get a slice of the pie also.
How come you're such a workout fanatic?
I like competition. I like how it makes me feel when I'm in shape. The other thing I do is I climb mountains and do rock-climbing.
All traits well-suited for growing a law firm.
We started with four lawyers here in Los Angeles in January 1986 and we're about 450 now. And I think that it was a simple message to the business and legal community that we aren't trying to be all things to all people. We only want to do one thing, and we're the best at it: We want your toughest litigation problems. I think that was very important and powerful for us.
What was the low point during that process?
It was never tough. It was always fun. There never was a low point or a point where we struggled. If you want to talk about Los Angeles success stories, I mean, this is a homegrown Los Angeles firm that is now the largest in the world at what we do.
How would you describe your management style?
I'm of a view that good lawyers don't need to be managed; you need to stay out of their way. It's not much of an exaggeration to say, but it's almost true, that the only important decision you make is whom you practice law with. Everything else pretty much takes care of itself. A good lawyer doesn't need someone looking over his shoulder managing how he or she conducts their case. So I think law firm management in a way is kind of a misnomer.
So is that why everyone here is walking around in jeans and sneakers?
Why shouldn't people be comfortable when they work? I actually think it makes people more effective. If nothing else, you waste less time getting dressed in the morning and get to the office sooner, which I love to do.
You made the news a few weeks ago by promoting Kathleen Sullivan to a name partner – the first woman with her name on the door of an AmLaw 100 firm. What took so long?
Look at it this way: Who are the people on the names of the top 100 law firms? First off, they're mostly dead, and they've been dead a long time. So if we're asking ourselves, why aren't more women among that group, you have to go back before 1950, before 1925, and look at where women were in the legal profession in the United States.
What is the best advice you've received?
I can't really think of any significant decisions I've made where somebody else in my life or somebody else's advice has been much of a factor in deciding what I was going to do. So I'm not great being on the receiving end of advice.
But you're good at giving it?
I think I am. (Laughs.) One piece of advice I gave to one of my children in the last week, and something that I've told people, was that there is great power in deciding to do something, in committing yourself to a certain objective. That in itself can be very, very powerful and very profound.
What do you mean powerful?
I think that people sometimes think that there are a number of different things that they would like to do, and it's kind of a wish list. But if you actually identify something and you make a decision – that this is important to me – and you commit to that, that's not something that's just going to be on a wish list. That can give your life momentum and direction, and become kind of an organizing principle for other things in your life.
Can you give an example from your life?
I think one thing people would tell you about me is that when I decide that I want to do something, I'm relentless in pursuing that. That was true in opening an office here in Los Angeles when we first started out. Or two years ago when we opened an office in London.
You're married with five children. Is it hard to balance family life with that?
Well, you know my youngest now is a junior in college, so they're all doing different things now in their own lives. Most days I don't see them, but I often look back on when they were growing up and I had all five of them in the house at once, and I wonder in retrospect how I did it, because I do think I managed to make all the school plays and concerts and all the rest of it. But I was every bit as busy when they were young as I am now.
What's your typical day like?
A big chunk of the time I'm not here in Los Angeles; I'm working out of town or out of the country somewhere. When I'm here, a typical day is that I'll get up anywhere from 5 to 7 and ride my bike or swim or run or lift weights or something like that for a couple of hours and work on the computer. I typically get into the office somewhere between 9 and 10. I talk on the telephone, I meet with people, I go to court, I go to clients' offices. On any given day I may do one or more or all of those things. And I usually go home somewhere between 6 and 7 at night and I always do some work in the evening at home.
I've read that you're a Mormon – does that figure a lot into your daily life?
Nope.
Has it shaped your outlook?
Mormons believe there's nothing wrong with having material success in this life. It isn't the be all and end all, but there's nothing wrong with it, you would have to say. There are a lot of very successful Mormon people, and that's probably somewhere part of the ethos of what it means to be Mormon. Or at least one strand of it.
What was it like growing up in Utah?
I grew up in Bountiful, Utah. I really wasn't very happy growing up there. I found that at a young age I wasn't able to appreciate all the things that Utah has to offer. I like going back there now, but at the time it seemed like a very small world, very claustrophobic to me, and I couldn't wait to get out.
Why do you go back now?
Well, in terms of the outdoors, I think it's got perhaps the most beautiful scenery in the world.
Anything that your employees don't know about you that would surprise them?
I like birds. I don't like animals. I don't like dogs, I don't like cats, I don't like horses, I virtually don't like any animal. I really like birds. I like to go birding.
Why birds and nothing else?
I can say why birds; I can't say why I don't like the other things. There is something serendipitous about what might just fly into your backyard on a given day. Statistically, you know you can expect some pigeons, sparrows, house finches and blue jays. Those are the common things that we see in Southern California all the time. And then there are other things that will be here seasonally, that come during migrations. But then you have the bizarre bird that doesn't belong there, you know, that'll just show up – that can happen. So every time you look up in the tree you don't know for sure what you're going to see. There's a randomness to it which I kind of like.
Anything else?
I think you've covered everything. I won't need any psychotherapy for a couple weeks.
John Quinn
TITLE: Managing Partner
COMPANY: Quinn Emanuel Urquhart & Sullivan LLP
BORN: 1951; Fort Belvoir, Va.
EDUCATION: B.A., Claremont Men's College; J.D., Harvard Law School
CAREER TURNING POINT: Recruiting name partner Bill Urquhart to join the firm
PERSONAL: Lives in Pasadena with his wife of 27 years, Shannon; his five children are grown
HOBBIES: Rock-climbing, triathlons, reading, bird-watching
For reprint and licensing requests for this article, CLICK HERE.