Westwood Equity Firm Looks Beyond Studio Deal
BANKING & FINANCE: Gores Group closes billion-dollar fund while pursuing Miramax.
Monday, April 19, 2010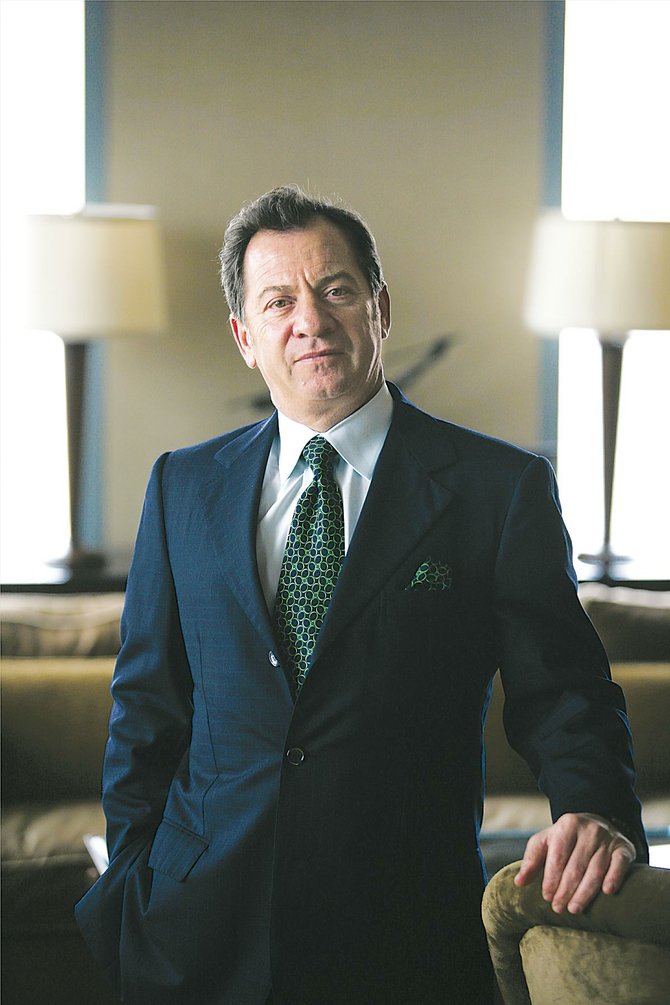 Regardless of whether he walks away with Miramax, private equity titan Alec Gores doesn't look like he will be slowing down anytime soon.
Gores Group LLC, a Westwood-based private equity firm founded by Gores in 1987, recently reported the preliminary close of a billion-dollar fund known as Gores Capital Partners III.
According to a filing with the Securities and Exchange Commission, the fund, launched in March 2009, raised $1.04 billion from 19 investors. Reports after the launch said that the firm had hoped to raise $1.5 billion.
A vice president from the Gores Group did not return queries from the Business Journal on deadline.
Private equity fundraising has been challenging over the past few years, but the markets are starting to loosen, said Paul Altman, director of Sage Group LLC, a West L.A. investment banking firm focusing on middle-market mergers and acquisitions.
"It's taking longer but people are getting their capital," Altman said.
For example, Angeleno Group LLC, a Century City private equity firm focused on the alternative energy industry, has raised $200 million toward a $250 million fund, according to an SEC filing this month.
Gores, meanwhile, is locked in a high-profile bidding war for the Miramax film library owned by Burbank entertainment conglomerate Walt Disney Co.
Gores, who is bidding in partnership with his brother Tom, is in competition with two other groups. One is a team that includes Bob and Harvey Weinstein with Ron Burkle's Yucaipa Cos.; the other includes construction magnate Ron Tutor. The deal is expected to fetch close to $700 million.
The Miramax deal would be the latest in a series of Gores Group transactions. In February, the firm announced the $17 million acquisition of Galion, Ohio, power conversion company Peco II Inc., a deal meant to supplement the operations of another portfolio company.
Altman said many private equity firms that had been waiting on the sidelines now feel more comfortable making acquisitions.
"They were patient investors last year and weren't putting much capital to work," he said. "This year they're feeling more bold and are starting to put their money to work. It's certainly much more active than it was at the same time last year."
REIT Offerings
The capital markets are loosening for real estate investors.
A pair of local real estate investment trusts – Macerich Co. and Kilroy Realty Corp. – announced plans last week to raise capital through stock offerings. The move came just days after commercial property owner Thomas Properties Group Inc. announced plans for a $30 million stock sale.
The three offerings are expected to generate more than $1.5 billion for the companies.
Macerich, which typically invests in shopping malls, commenced an offering of 30 million shares at $41 apiece, for total expected proceeds of $1.2 billion. Kilroy priced its offering at $34 per share for 8 million shares, which would bring in $272 million.
Both of the offerings, which the trusts said would be used in part to pay down debt, were larger than initially planned.
Loan Surge
Small-business lending jumped dramatically in the beginning of 2010, according to newly released data.
The U.S. Small Business Administration announced that the number of SBA loans approved during the first six months of fiscal 2010 in the L.A. district – including Los Angeles, Ventura and Santa Barbara counties – jumped 74 percent from last year to 1,206. The dollar value of those loans was $590 million, up more than 125 percent.
Wells Fargo & Co. was the top local SBA lender during the period, followed by Superior Financial Group and Excel National Bank.
C-Suite News
K-Fed Bancorp, the Covina holding company for Kaiser Federal Bank, announced that Giovani Dacumos was appointed to the boards of the holding company, the bank and its affiliated mutual holding company. Additionally, K-Fed said Diana Peterson-More will join the boards May 1. … Rabobank NA, an El Centro community bank owned by global financial services firm Rabobank Group, announced that Dave Gressman has been appointed senior vice president and commercial banking regional manager for the newly established Thousand Oaks office. … George Smith Partners, a real estate investment banking firm in Los Angeles, has hired Raffi Sarkissian as senior vice president.
Staff reporter Richard Clough can be reached at rclough@labusinessjournal.com or at (323) 549-5225, ext. 251.
For reprint and licensing requests for this article, CLICK HERE.