3-D Company Jumping Out
Beverly Hills' RealD plans IPO to fund growth.
Monday, April 19, 2010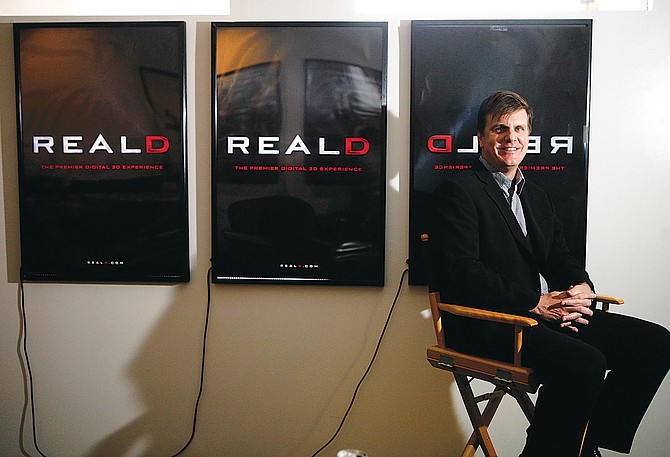 Are 3-D films and television here to stay? One local company – RealD Inc., the leading manufacturer and distributor of 3-D technology and glasses – says yes, and it's asking investors to do the same.
The Beverly Hills-based company, which makes and licenses technology that converts movie projectors for 3-D showings and is preparing for a big wave of 3-D televisions, announced April 9 that it intends to raise up to $200 million through an initial public offering. The company plans to be traded on the New York Stock Exchange under the ticker symbol "RLD."
RealD intends to use the money to pay off $20.2 million in debt, invest in new technologies and possibly acquire other companies.
The move comes at a crucial time for the 3-D industry. While recent blockbuster films such as "Avatar" and "Alice in Wonderland" have generated buzz and bucks, bigger money will come when consumers start buying 3-D TVs and glasses for their living rooms. It's unclear when – or if – that will happen, and RealD's future financial success likely hinges on the answer. The success of the IPO, underwritten by JP Morgan Chase and Piper Jaffray and Co., will determine whether investors believe it will.
"RealD's essentially looking for the early mover advantage in this sector, and there's certainly a great deal of buzz and momentum in terms of 3-D movies," Charlotte Jones, senior analyst for film and cinema at London-based research firm Screen Digest, told the Business Journal. "But going forward, into the home, that's going to be one of the main challenges."
A spokesman for RealD declined to comment, citing the quiet period that precedes an IPO.
RealD was founded in 2003 by Michael Lewis and Joshua Greer, a pair of 3-D industry veterans who are respectively the chief executive and president of the company. Since then, the company has evolved from its origins as a player in a niche market to a dominant force in an increasingly mainstream medium. RealD has deployed its 3-D technology on 5,321 screens worldwide, more than any other company.
It has formed partnerships with many of the world's top motion picture exhibitors, including AMC and Cinemark. In January, the company inked deals with Samsung, Toshiba and Panasonic to integrate its technology into television sets. Some of those TVs are slated to hit the market later this year.
RealD's closest competitors are Dolby Laboratories Inc. in San Francisco; Xpand, a company founded in Ljubljana, Slovenia; and Masterimage 3D in Burbank. But RealD claims the largest presence in the market; in its prospectus filed with the Securities and Exchange Commission, the company said it has more market share than all of its rivals combined.
Seeing green
RealD's business has boomed as Hollywood pumps out more 3-D films. From 2005 to 2009, a total of 27 3-D motion pictures were released. This year, analysts predict movie studios will release 21 pictures in the format alone, and that they could make up about 25 percent of the total box office in North America.
As more movie theaters rush to retrofit their venues, the trend has boosted RealD's bottom line.
In the 2009 fiscal year that ended in March last year, RealD had revenue of $45 million compared with about $24 million in 2008 and $16 million in 2007, according to the prospectus. But revenues accelerated in the early part of its 2010 year; from April through December 2009, RealD reported $112 million in revenue.
Despite its escalating sales, RealD has yet to turn a profit. In 2009, it reported a net loss of $16 million, compared with a 2008 net loss of $29 million. The company had only about $15.7 million in cash and cash equivalents in 2009.
The reason RealD is in the red: While it's making more money from 3-D films, it is also spending significant amounts on research and development, the manufacture of projection equipment and polarized glasses, and marketing. The company has also been hiring: It spent $2.3 million more in 2009 than it did in 2008 on personnel costs, which included salaries of employees at a new European office and paying out executive bonuses.
The net losses might obscure a better outlook: The company has started making money on an EBITDA basis. Last year RealD had an EBITDA – or earnings before interest, taxes, depreciation and amortization – of more than $1 million, compared with a loss of $3.8 million in 2008.
RealD's positive cash flow could help the IPO because investors usually want a discount on stock when all figures show in the red, said James Marsh, a media and entertainment analyst at Piper Jaffray.
"A lot of times you have companies that have great growth prospects but not much to show for it," he said. "What's interesting about RealD is it has segments that are profitable today. They can actually point to successes, and potentially you can feel more comfortable that they can execute on their plans."
Picture unclear
About 97 percent of RealD's revenue comes from selling its technology to movie theaters. It typically costs $20,000 to retrofit one movie screen for 3-D. Rather than charge theater owners the whole amount up front, RealD asks for a down payment and then charges a royalty fee of 50 cents per ticket to a 3-D film.
The advantage is that the strategy entices hesitant theater owners to upgrade to 3-D, but the disadvantage is that RealD is at financial risk if the format turns out to be a short-lived fad.
However, 3-D television could represent RealD's best hope for growth. There are about 149,000 movie screens worldwide, and only about 16,000 of those use digital technology that can be converted into 3-D. In contrast, there are tens of millions of TV sets sold in the United States each year.
But before RealD can capitalize on small-screen 3-D, consumers have to buy into it. And it's far from certain that they will, said Kurt Scherf, vice president and principal analyst with Dallas-based research firm Parks Associates.
Part of that has to do with expense: Three-D TVs can cost $500 to $1,500 more than regular sets. In addition, industry watchers aren't certain that all consumers want their regular TV programming to leap off the screen at them.
"3-D might be a nice to have every once in a while in your television," Scherf said. "But I'm still not convinced you're going to see a strong use for it."
For reprint and licensing requests for this article, CLICK HERE.