Best Places to Work Awards (recap)
---
HOW WE DID IT!
---
The Best Places to Work in Los Angeles is an annual celebration of elite employers who have proven that they know what it takes to create environments where people love to come to work. Identifying and recognizing these outstanding workplaces is a joint effort of The Los Angeles Business Journal and Best Companies Group.

The Best Places to Work in Los Angeles program was open to all publicly or privately held companies with at least 15 employees working in LA County. The workplace assessment and survey process was managed by Best Companies Group (BCG), Harrisburg, PA. BCG, an independent workplace excellence research firm, managed the registration process, conducted the surveys, evaluated the data and ultimately chose the firms good enough to make the list. BCG manages 39 similar programs in other cities, states and industries, as well as managing programs in Canada, Morocco and the UK.

Part one of the assessment (three-quarters of each company's score) involved a confidential 81 question Employee Engagement & Satisfaction Survey (EESS) which was used to evaluate the employees' workplace experience and company culture. Part two of the assessment (one-quarter of each company's score) consisted of The BCG Employer Questionnaire (EQ), used to collect information about each company's benefits, policies, practices and other general information. The two combined sets of data allowed the experts at BCG to conduct an in-depth analysis of the strengths and opportunities that exist in each company. BCG's workplace assessment experts determined who was good enough to make the list and where they ranked.

While the survey process and evaluation was free, many participating companies opted to purchase the full BCG Employee Feedback Report which include a comprehensive summary of the employee feedback. The report also included the employee written comments and the Los Angeles Benchmark Reports. This report will help each company understand their workforce better and equip them with the information to make their workplace even better.

Visit BestPlacesToWorkLA.com for more information or call Best Companies Group toll free at (877) 455-2159.

---
The Best Large Companies to Work for in Los Angeles
(250 or more US employees)
1. WEST MONROE PARTNERS
2. HKS ARCHITECTS, INC.
3. ALSTON & BIRD
4. HENDERSON ENGINEERS, INC.
5. BUILD GROUP
6. HOK
7. W.E. O'NEIL CONSTRUCTION CO.
8. MARSH & MCLENNAN AGENCY
9. C.W. DRIVER COMPANIES
10. CONSTANGY, BROOKS, SMITH & PROPHETE
11. SUNDT CONSTRUCTION
12. RYAN, LLC
13. SLALOM
14. DPR CONSTRUCTION
15. HORIZON MEDIA
16. PROTIVITI
17. GOODRX
18. PARIVEDA SOLUTIONS
19. IMPACT NETWORKING, LLC

20. CBIZ MHM, LLC
21. HARBOR DISTRIBUTING, LLC
22. SMITHGROUP
23. AVISON YOUNG
24. EAST WEST BANK
25. INSPERITY
26. CLUNE CONSTRUCTION
27. PCL CONSTRUCTION SERVICES, INC.
28. JLL
29. BROOKFIELD PROPERTIES
30. BLACKLINE
31. HNTB CORP.
32. AYA HEALTHCARE
33. CRESA LOS ANGELES
34. STAMPS.COM
35. CARPARTS.COM, INC
36. SERVICETITAN
37. PANDA RESTAURANT GROUP.
38. BOINGO WIRELESS

For Company Information Click Here
---
The Best Medium-Sized Companies to Work for in Los Angeles
(50 to 249 US employees)
1. BAMKO
2. VINCENT HUANG & ASSOCIATES, INC.
3. FLOQAST
4. P2S INC
5. MISSION
6. BURNHAM BENEFITS INSURANCE SERVICES
7. VOX NETWORK SOLUTIONS
8. BOLTON & COMPANY
9. PANGO GROUP
10. THE GOETZMAN GROUP
11. WINDES, INC.
12. ACC
13. EZ TEXTING
14. TRAVELSTORE
15. MEDIAALPHA
16. DERMAVANT
17. HOPSKIPDRIVE

18. TIGERCONNECT, INC.
19. RAINES FELDMAN LLP
20. TK1SC
21. GOLDEN STAR TECHNOLOGY INC.
22. NOURMAND & ASSOCIATES
23. PARAMOUNT GLOBAL INC.
24. SIGNATURE ESTATE & INVESTMENT ADVISORS, LLC (SEIA)
25. CITADEL EHS
26. ADCOLONY
27. BARNSTORM VFX, INC.
28. SAA INTERIORS + ARCHITECTURE
29. KARLIN, HIURA & LASOTA, LLP
30. TICKETMANAGER
31. HOFFMAN BROWN COMPANY
32. SIGNAL SCIENCES
33. CORRA

For Company Information Click Here
---
The Best Small Companies to Work for in Los Angeles
(15 to 49 US employees)
1. KONNECT AGENCY
2. KARDENT DESIGN
3. MIRACLE MILE ADVISORS
4. IFACTOR
5. STARTR CO.
6. GROBSTEIN TEEPLE LLP
7. T2 TECH GROUP
8. HIRECLOUT
9. ADQUICK.COM
10. NORTHWESTERN MUTUAL - WEST LOS ANGELES
11. BLAZE PR
12. STRUCTURAL FOCUS
13. NOUN PROJECT
14. BE STRUCTURED TECHNOLOGY GROUP
15. HALBERT HARGROVE

16. PLAYQ INC.
17. VACO LOS ANGELES, LLC
18. FANTASTIC IT SOLUTIONS
19. VERTEBRAE, INC.
20. AD.NET, INC
21. PAYQWICK
22. SAFERIDE HEALTH
23. SKYLAR
24. AMPLUS GROUP
25. EPIC FREIGHT SOLUTIONS
26. FREIGHT RIGHT GLOBAL LOGISTICS
27. MONTAGE INSURANCE SOLUTIONS
28. NORTHWESTERN MUTUAL LOS ANGELES
29. AMERICAN LENDING CENTER

For Company Information Click Here
---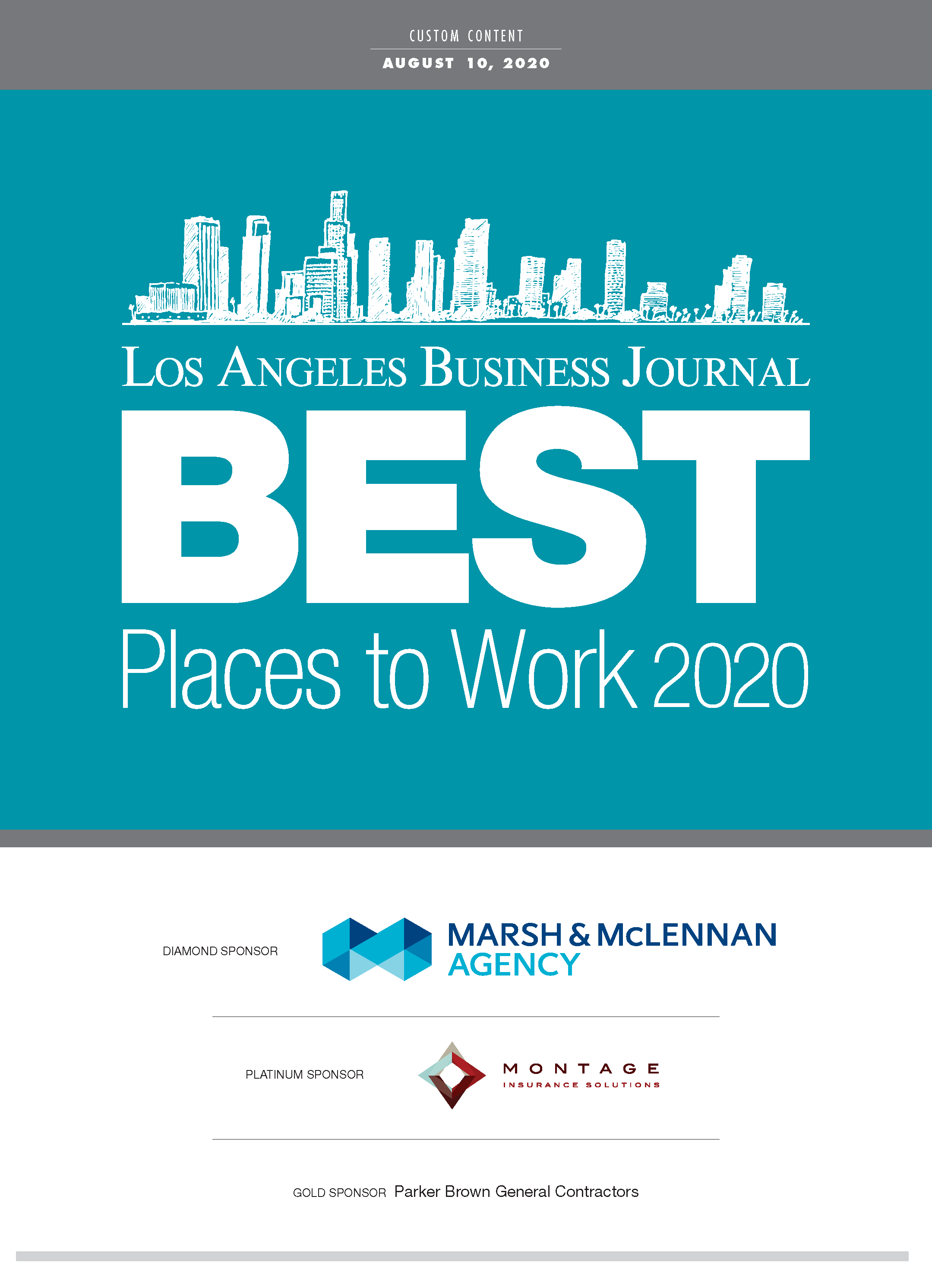 Inside This Supplement
Making it a Superhero Year and Standing Victorious!
The definition of culture is "the art and manifestation of human intellectual achievement regarded collectively," or "to maintain tissue, cells or bacteria, in conditions suitable for growth."... Read More

Survey Reveals How COVID-19 is Changing the Workplace and the Economic Climate
Following unprecedented reports of unemployment, new research released by SHRM (Society for Human Resource Management) sheds light on how the coronavirus is disrupting workplaces... Read More
---
Webinar Polling Results:
---
Sponsors
DIAMOND
PLATINUM
GOLD
---
If you're interested in sponsoring, speaking or partnership opportunities please call (323) 549-5225 or email us.
---
To return to Best Places to Work main page click here