Most Influential Marketers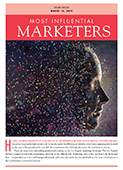 Custom Content from the Los Angeles Business Journal
---
2019 MOST INFLUENTIAL MARKETERS
Having the right marketer on your side can be the difference between your potential customers hearing about you in a positive light or not at all. It can also make the difference in whether or not your company positions itself in the eyes of the general public and with the constituents who will help take you to the next level of success.
There are some truly outstanding professionals making up the Los Angeles marketing landscape. The Los Angeles Business Journal reviewed the nominations and took on the difficult task of selecting some of the very best to be showcased here.
Congratulations to the trailblazing professionals and teams who made this list and thank you for your contributions to the local business community's success.
Jordan Atlas - Edelman
Marc Becker - The Tangent Agency
Devon Blaine - The Blaine Group
Jeannine Davis D'Addario - Guitar Center, Inc.
Dean Evans - Hyundai Motor America
Raissa Gerona - REVOLVE
Kristan Ginther - RSM US LLP
Jessica Hawthorne-Castro - Hawthorne
Seth Horowitz - Horowitz Agency
Mari-Anne Kehler - Green Hasson Janks
Andreea Popa - Intrepid Investment Bankers
Lara Richardson - Discovery Inc.
Brandon Rochon - Kastner North America
Randy Rovegno - POP TV
Mark Weinfeld - Amusement Park Inc.
Jim Yeager - breakwhitelight
DEUTSCH
ELEVATE MY BRAND
THE MARKETING MASTERS
RPA