Father's Day Gift Guide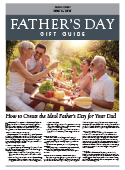 Custom Content from the Los Angeles Business Journal
---
Inside this supplement:
How to Create the Ideal Father's Day for Your Dad
Dad has always there for you and Father's Day is the perfect opportunity to return the favor and show your gratitude. Yes, it seems like Dad already has everything he could possibly want. The easy solution is to find memorable, one of a kind gifts and activities and to make the day all about him...
Read More
---
Take Sci-Fi Loving Dads to The Galaxy's Edge
Think about all the times dad took you to Disneyland when you were a kid. If he is a Star Wars fan, perhaps it's time to return the favor. Star Wars: Galaxy's Edge, the epic new land inside Disneyland Park, opened last week and it invites guests to live their own Star Wars adventures as they explore a remote planet full of unique sights, sounds, smells, tastes and other immersive experiences...
Read More
---
Give Dad a Body Reboot for Father's Day
Imagine if your body could achieve all the health benefits of five-day fasting — while you enjoy eating some delicious and nutrient-rich food! Thanks to a nutri-technology company called L-Nutra and years of scientific research, there is now a way to actually mimic the fasting process without completely depriving yourself of food...
Read More
---
Sign Your Beer Loving Dad Up for The Rare Beer Club
If Dad's a big fan of beer and likes to experiment a bit, treat him to a membership with MonthlyClubs.com's Rare Beer Club! Since 1994, MonthlyClubs.com has grown to be one of the largest clubs in the country by consistently delivering a wide variety of limited production, high quality products made from the best ingredients at outstanding values. It all starts with the club's selection process...
Read More
---
Father's Day in Facts and Figures
According to the Library of Congress, "In June of every year, we honor fathers. The first Mother's Day was celebrated in 1914, but a holiday honoring fathers did not become official until 1966, when President Lyndon Johnson declared that the third Sunday in June would be Father›s Day...
Read More
---
Dove Champions Paternity Leave For All Dads
When men take time off work to care for their newborn, everyone benefits - including their families, workplaces, and communities Over the past 30 years, the role of U.S. fathers has evolved as dads have increased the amount of time they spend with their children by nearly a third...
Read More
---