Jerry Sullivan
Editor
Jerry Sullivan is the Editor of the Los Angeles Business Journal, the leading source of news, feature stories, analysis and commentary for the community of business in Los Angeles.
He previously served in the same capacity for the Orange County Business Journal, a sister publication based in Irvine, California.
Sullivan founded the Los Angeles Garment & Citizen, which served neighborhoods throughout Downtown Los Angeles and surrounding districts from 2001 to 2010.
He also has edited California Apparel News, Pacific Textile News and World Trade Magazine.
Prior experience as a reporter includes working the crime, sports and business beats for weekly and daily newspapers.
Sullivan is a native of Chicago, and a graduate of Marquette University in Milwaukee, WI.
He can be reached at jsullivan@labusinessjournal.com
Recent Stories
No shortage of places big and small where art and business intersect around L.A., including Mama Lion Supper Club, a Koreatown hookah lounge that serves up food, drink and the occasional celebrity in the making at 6th & Western.
Word along the Miracle Mile has the Callender's Grill on the 5700 block of Wilshire Boulevard – right across the street from the La Brea Tar Pits – shutting down as part of a plan to add a residential high-rise to the adjacent SAG-AFTRA building owned by J.H. Snyder Co.
Have you taken a stand on the app-based, pay-by-the-mile electric scooters that seem to be scattered about the city in greater numbers every time you look around?
Controller calls for new drill, extraction tax on oil, gas rigs in city
L.A. City Controller releases review of oil and gas wells in Los Angeles.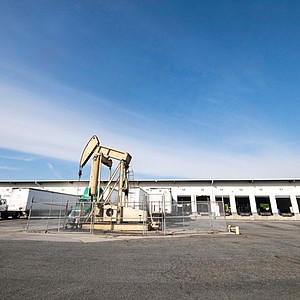 It wasn't quite déjà vu, but downtown's most civic-minded investment banker hit upon something close as he enjoyed some octopus on the edge – a plate of the stuff served up to Lloyd Greif at a window-side table at 71Above in the U.S. Bank Tower on 5th Street.
Our annual list of the largest women-owned businesses is always especially interesting.
A little extra to go with our front-page piece on the financial shape of the L.A. Times and other California publications now in the hands of Patrick Soon-Shiong …
It's clear – even amid increasing chatter that the current cycle might be near peak – that L.A. has risen to a new level in these post-recession years.
California often zigs when the rest of the country zags, and Los Angeles has long been the chief locus of the instinct – perhaps never more than these days when it comes to China.
President, Co-founder, Milken Foundation
Michael Milken was a disruptor long before the Digital Age.