David Nusbaum
Research Director & Reporter (sports business)
David Nusbaum, a native Angeleno, created the sports business beat at the Business Journal. He graduated from the University of California, Berkeley where he earned a B.A. in Political Science. At Berkeley, he taught a course on the history of baseball in American society and spent one season as a radio broadcaster for Cal Baseball on KALX-FM (90.7). He started work at the Business Journal in 2004 and also serves as the newspaper's research director. He received an award for sports writing from the Los Angeles Press Club in 2007.
The Sports Business Column follows the fast moving world of sports business. Coverage areas include professional and college teams in Los Angeles County as well as the sports leagues, venues, annual events, sponsorships and apparel manufacturers. This column does not cover on-the-field action but goes inside the owners' box and inside sports-related companies to show how business decisions affect the local community.
David can be reached at 323-549-5225, ext. 236, or by Email: dnusbaum@labusinessjournal.com.
Recent Stories
Innovative Partnerships Group looks to assist property owners in fielding business sponsors.
Innovative Partnerships Group hopes to team up property owners and businesses in sponsorships.
ADVERTISING: Liqui Moly signs deal with Kings, minor league Reign, German club.
The Los Angeles Kings scored a sponsorship hat trick last month.
Magic Johnson's executive role with NBA's Lakers could provide assist to businessman's ventures.
Benefits of Magic Johnson's high-profile Lakers job could pass to his business interests.
By Kat Speed
February 24, 2017
Los Angeles Football Club has signed Delta Air Lines and its partner Aeromexico as the official airlines for the new Major League Soccer club, LAFC announced Monday.
SPORTS: League to mark 100th year with weekend of events at L.A. Live.
National Hockey League to take shot at heating up L.A. Live with its All-Star Game.
SPORTS: Tourney fits Tiger Woods to a tee.
Golfer Tiger Woods' foundation has bagged the PGA Tour's Riviera Country Club event.
FOOTBALL: Rams will get roommate as San Diego's Chargers opt to relocate.
Inglewood's future stadium will tackle another team as the San Diego Chargers choose to relocate.
After numerous failed attempts to land a new stadium in their longtime San Diego home, the Chargers have decided to flee the coop and move to Los Angeles.
The Los Angeles Rams held a groundbreaking Thursday morning for the $2.6 billion Los Angeles Stadium and Entertainment District at Hollywood Park. Rams owner Stan Kroenke, NFL Commissioner Roger Goodell, and Inglewood Mayor James Butts made remarks at the ceremony. The stadium is expected to be completed for the 2019 football season and will host the 2021 Super Bowl. Kroenke noted that the project will ultimately move 8 million cubic yards of dirt to make way for the stadium and its retail, residential and office components.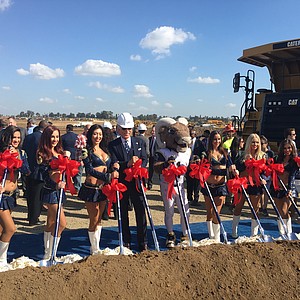 Jaime Jarrín, the "Spanish voice of the Dodgers," is one of the most recognizable voices in all of Spanish-language broadcasting.