LA TRAVEL LEISURE
Recent and archived news stories on: Airports, Cruises, Entertainment, Hotels, Gaming, Restaurants, Sports, Sightseeing, Theme Parks...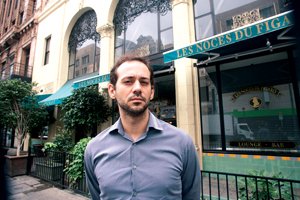 DINING: Restaurant owner Jonathan Mgaieth says landlord failed to disclose lead paint, other toxins at property.
French restaurateur's American dream turned toxic after mold, asbestos and lead paint were found at his eatery's building.
October 20, 2014 midnight $$
Share

Chief Executive of Murphy O'Brien Public Relations on her morning routine, her son's nascent hip-hop career and working with her husband.
Karen Murphy O'Brien co-founded Murphy O'Brien Public Relations 25 years ago with her husband, Brett O'Brien. The company has since grown to 50 employees working at its West Los Angeles office in the Roll Global Building. It services more than 80 clients, including Peninsula Hotels and The Cheesecake Factory. On a daily basis, O'Brien shuffles between meetings with the company's management team, has lunch with clients and media influencers, reviews client strategy plans and attends new business presentations. In addition, she works for several charities and serves as a board member of Chrysalis, an organization that helps low-income and homeless Angelenos find and keep jobs. We spoke with Murphy O'Brien about how she juggles it all.
On-location television production continued to show strong growth in the third quarter but feature film production continued to decline, according to figures released by FilmL.A. on Tuesday.
By Business Journal Staff
October 21, 2014 2:39 p.m.
Creative Artists Agency announced Monday that minority owner TPG Capital of Fort Worth, Texas, had agreed to increase its investment in CAA to a majority position.
Santa Monica independent studio Lions Gate Entertainment Corp. and New York media company Tribeca Enterprises will partner on a new digital subscription video-on-demand service, the companies announced Monday.
The Los Angeles Times is bringing back its California section after a five-year hiatus, the Times announced Monday.
October 20, 2014 1:24 p.m.
The Los Angeles Times on Thursday launched an Internet-TV channel available on Roku set-top boxes.
October 16, 2014 2:31 p.m.
Warner Bros. Entertainment will cut about $200 million from its budget, its chief executive said Wednesday to investors.
Warner Bros. Entertainment announced on Tuesday that it is creating a partnership to make investments in Chinese and other international film and television content.
By Business Journal Staff
October 14, 2014 3:06 p.m.
Universal Studios announced on Monday plans for a theme park in suburban Beijing that will open in 2019.
By Business Journal Staff
October 13, 2014 3:01 p.m.
A Saudi Arabian prince, the second largest investor in Euro Disney, is backing a recapitalization plan for the company's struggling theme park outside Paris.
By Business Journal Staff
October 13, 2014 2:29 p.m.
After Larry King retired from CNN a few years ago, he moved his show to an unlikely destination: Ora TV, an upstart Internet network launched two years ago with backing from the world's richest man, Carlos Slim Helú. Now, Ora is expanding far beyond the realm of news talk and churning out celebrity and infotainment programming as it tries to become a larger player in the online entertainment world.
October 10, 2014 2:52 p.m.
Principal of Santa Monica design firm Studio, on staying calm in L.A. traffic and making time to eat locally – outside of the office.
David Dunphy, 56, is a principal at the hospitality design firm Studio in Santa Monica, a division of Hirsch Bedner Associates. In addition to projects in San Francisco and Camarillo, Dunphy leads a team working on three local hotels: a Courtyard and Hampton Inn in Santa Monica, and Plaza La Reina Hotel in Westwood. Dunphy has spent more than 30 years working in a deadline-driven business, and has learned how to juggle multiple projects while carving out time for water sports. We spoke with Dunphy about how he maintains his calm as the projects pile up.
Private membership airline Surf Air announced Monday that it will expand its service both north and south of Los Angeles – to Carlsbad in November and to Oakland in December.
October 6, 2014 2:16 p.m.
Walt Disney Co. announced Monday a proposed $1.25 billion investment in its struggling Euro Disney operation and the Disneyland Paris theme park.
By Business Journal Staff
October 6, 2014 2:14 p.m.
Playboy Enterprises of Beverly Hills announced on Monday it has reached a deal with a Los Angeles publishing house to produce Playboy Latino, a bimonthly magazine that will be written primarily in Spanish.
October 6, 2014 2:09 p.m.