LA TECHNOLOGY
Recent and archived news stories on: Alternative Energy, Automotive, Computing, Engineering, Internet, Nanotech, Software, Telecom, Wireless...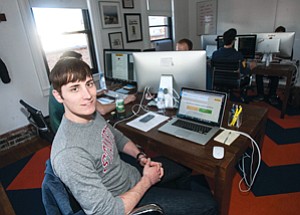 FINANCE: Startup hopes to spur remittance shops to jump online.
WireCash looks to help remittance shops get a line on the future by translating their business to the Internet.

LAW: Attorneys' Internet entries may clash with state bar rules.
Blogging attorneys may be courting trouble with the California State Bar's advertising rules.
Los Angeles angel investor Brock Pierce has been named chairman of the Bitcoin Foundation, a Washington, D.C., crypto-currency industry group.
The Los Angeles Business Journal brings you a weekly roundup of L.A. tech launches. This week's list includes several Apple Watch app launches.
Cornerstone OnDemand, the Santa Monica cloud-based human resources software company, announced today it is adding an additional seat to its board.
A subsidiary of Pasadena-based Jacobs Engineering Group Inc. has acquired a controlling interest in China's Suzhou Han's Chemical Engineering Co. Ltd., a firm that holds special licenses needed to perform engineering work for chemical industry projects, Jacobs announced Wednesday.
Despite $15 million in investments and 40 employees, commercial real estate loan crowdfunding website AssetAvenue of Los Angeles announced today it has joined real estate accelerator Reach.
Apartment search and rent payment app RadPad of Santa Monica announced it raised a $9 million Series A investment round today to expand listings and grow the company's local promotional teams.
Aerospace manufacturer Northrop Grumman and the California Institute of Technology of Pasadena have partnered to research and develop a system of outer space solar panels that will transmit energy back to earth.
Going to the movies may no longer be a prerecorded affair.
The Los Angeles Business Journal brings you a weekly roundup of L.A. tech launches.
A legal battle with the Los Angeles city attorney isn't slowing Nestdrop down.
Snapchat of Venice has put its first advertising product "Brand Stories" on hold.
The Los Angeles Dodgers are getting into the game of building tech companies with the launch of an accelerator.

Citing growing capacity and demand, Surf Air is expanding to four more cities for business and leisure travel.