LA TECHNOLOGY
Recent and archived news stories on: Alternative Energy, Automotive, Computing, Engineering, Internet, Nanotech, Software, Telecom, Wireless...
Snap lays off two dozen employees; Activision Publishing CEO Eric Hirshberg leaving in March; and California legislators move forward bill to create California Aerospace Commission.
L.A. among the finalists for Amazon's 2nd headquarters; Jam City develops 'Harry Potter' game; and Apple leases 128,000 square feet in Culver City.
Los Angeles was named by Amazon as one of the 20 finalist cities for the Seattle e-commerce giant's second headquarters.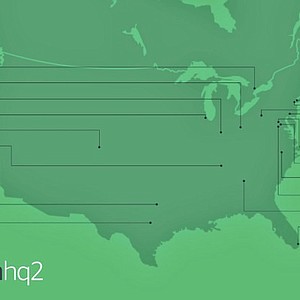 Tetra Tech acquires Australian engineering firm Norman Disney; Redbox says Disney engaging in copyright misuse to protect coming streaming service; and SpaceX's next customer offers support after mysterious Zuma failure.
Google to connect Latin America and Los Angeles with new undersea cable; Snapchat content execs talk app redesign and push into scripted programming; and Lockheed Martin exec hints that SR-72 might be built already.
Sheryl Sandberg, Jack Dorsey won't seek re-election to Disney board; Virgin Galactic conducts 7th glide test of spacecraft; and safety panel raises concerns about SpaceX's Falcon 9
Snapchat's big redesign rated negatively by 83 percent of reviews; Pentagon refuses to answer questions about failed $1 billion Zuma satellite launch; and The IMDb Show launched.
Venture capital investment to L.A. region falls again; Internet Brands to acquire lawyer search website Avvo; and SpaceX delays commercial crew test flights to latter half of 2018.
Internet Brands has reached an agreement to acquire Avvo Inc., an online directory of law firms and legal services, for an undisclosed amount, according to a press release.
Overwatch League-Twitch deal worth at least $90 million; artificial intelligence startup Oben raises $10 million; and Survios to open virtual-reality arcade in Torrance.
Electric car company Tesla has begun to install its first solar roof tiles for customers who placed reservations beginning last May. NASA has a new pilot program to gather Earth science data. And Eastman Kodak is introducing its own digital currency as part of the launch of a platform for photographers looking to license their photos.
Santa Monica's Pontifax AgTech led the second closing of a $9.5 million Series B round in Denver agricultural technology company Inocucor Corp., the companies announced Jan. 8.
Hong Kong-based mobile gaming company Kunlun Group Limited has closed on its purchase of the remaining stake of Grindr LLC, a gay men's dating app located in West Hollywood's Pacific Design Center, the companies announced Monday.
GoPro announced layoffs and cost-cutting as the camera and software company exits the drone business; video doorbell maker Ring has acquired light maker Mr. Beams; and the founder of dating app Grindr is stepping down following the company's acquisition by a Hong Kong-based mobile gaming company.
Snap's unusual structure led to breakthroughs but also problems; Hulu nabs 'Lost' exclusive subscription streaming rights from Netflix; and SpaceX now targeting late January for Falcon Heavy launch.
Prev Next