PLAYING TO WIN
Local toy shops take advantage of Toys R Us void
Friday, May 10, 2019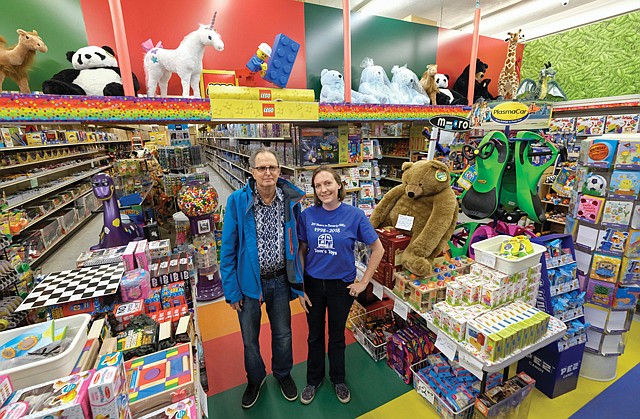 Nearly a year has gone by since Toys R Us — the nation's largest toy retailer — went belly up, liquidating inventory and shuttering hundreds of stores across the United States.
The dominant chain's departure from the toy retail market left a void in the industry — but it also created opportunity. Independent toy stores in Los Angeles say not only have they seen a notable bump in business after Toys R Us shut down, but the giant retailer's failure provided some lessons.
"I have seen the closing as an overall positive thing for us," said Dana Chavez, owner of Wonder Emporium in Whittier. "People are coming in."
Carrie Harr, the owner of the Miracle Mile Toy Hall in Mid-Wilshire, said sales have jumped about 12% in the last year. "Since September, we have had tons of people come in. They say there is no other toy store," she said.
Stores like Harr's and Chavez's only account for about 1% of all toy sales in the United States, according to market research firm NPD Group Inc. Aside from giants like Toys R Us, the bulk of toy sales go through online and big-box retailers like Amazon.com Inc., Walmart Inc. or Kohl's Corp.
Still, toy shops are one of the few segments in the industry that have been growing. Last year, with the failure of Toys R Us, the $21.6 billion U.S. toy market logged a 2% drop in sales after four straight years of growth. But specialty toy stores saw a 16% jump in sales in the fourth quarter of 2018, NPD reported.
The American Specialty Toy Retailing Association said a survey of 900 of its toy store members at the end of last year found that business was trending up.
"There was a ripple effect when TRUs closed," said Kimberly Mosley, president of the association.
Formidable competition
Even as sales inch upward, independent toy shops continue to face many of the same challenges that brought down Toys R Us, including growing competition from ecommerce outlets and the rising cost of operating a brick-and-mortar storefront.
Toy shop owners often pay outsized rents because they want to be in prime retail locations in order to reach more customers. But for many busy parents, it's still easier — and often cheaper — to order merchandise online from Amazon or Walmart. Storefront retailers are missing out on many of those sales.
"Although the competition of Toys R Us is gone, the pressures of competitive online pricing and rising rent factors are still the biggest challenges for most independent toy stores," said Jill Wahlquist, vice president of Tom's Toys, which operates three stores in Beverly Hills, Montrose and San Luis Obispo. "Add to that the fact that the significant independent toy retailer population is aging and, in many cases, do not have the knowledge or budget to tap into online branding resources to capture the eyeballs of millennial parents."
For reprint and licensing requests for this article, CLICK HERE.
Prev Next