PUSHING FOR PERFECTION
BUSINESS LEADERS OF THE YEAR
Friday, March 8, 2019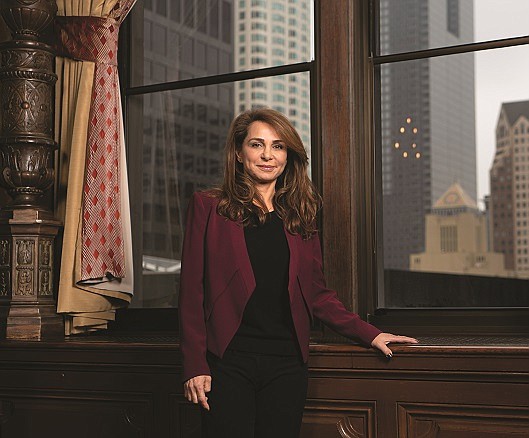 Bita Ardalan, managing director and head of commercial banking for MUFG Union Bank in California and the Pacific Northwest, is known as a go-to executive who can run and build complex businesses while staying ahead of evolving markets.
That reputation has been built over 33 years at the financial institution, where she's been an integral part of Union Bank's rise in the Southern California market.
Today, she has seven executives who report to her directly, who in turn have 150 direct staff and 250 support workers up and down the West Coast.
Before her current post, she headed the bank's middle-market lending for the United States market. She founded in 2010 the bank's national specialized lending group where she oversaw the sales, marketing and credit management of several of the bank's fastest growing specialties, and for many years she was the commercial banking market president for the Los Angeles region.
Under Ardalan's leadership, Union Bank has increased lending at a faster pace than its peers, even as commercial loan demand has been tepid in recent years. "We are growing faster than the industry," she said.
Ardalan also has built a niche business line lending to middle-market private equity groups.
Her most recent promotion in 2015 was into a newly created role in which she oversees all business lending for companies with revenues between $10 million and $2 billion.
Ardalan said her management style is to lead by example, and she pushes herself and her teams to be better each day.
"I am very driven, have high expectations and (am) known as a very fair leader," she said. "I set a good example with my work ethic and collaboration, to ensure we are a collaborating and a trusting team. A culture of high achievers and supporting each other — that makes a team successful."
This mentality has imbued the commercial banking team at Union with an entrepreneurial streak.
"Some of this is innate," Ardalan said. "This has propelled our banking, and our team looks at any obstacle head on, and finds solutions to the problem."
Personal perspective
Ardalan learned quickly at 17 years old how to trust and lean on others for support in tough times — good qualities for a corporate chief.
These lessons came four decades ago as a result of her upbringing in Tehran, Iran, where she had front row seats to the 1979 Iranian Revolution and the country's transition to an Islamic Republic. ...story continues on next page
For reprint and licensing requests for this article, CLICK HERE.
Prev Next