Training or Gaming?
Zwift straddles the exercise and e-sports market with cycling software
Friday, January 11, 2019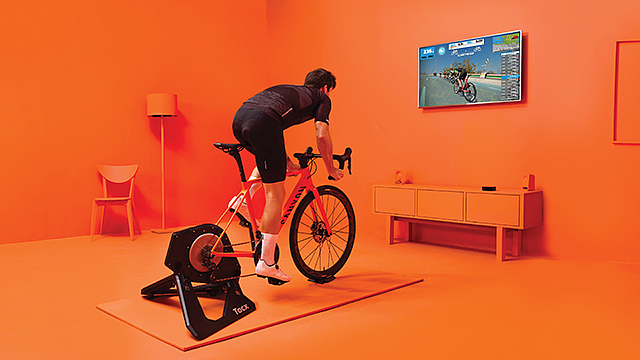 The sporting component of e-sports is not traditionally associated with vigorous physical activity; players compete while mostly stationary with on-screen gameplay providing the main draw.
Zwift Inc. wants to change that.
The Long Beach-headquartered company has rolled out plans for a new e-sports league that brings together professional cycling, video gaming and fitness tracking software to create a new dynamic in the e-sports world.
Zwift spokesman Chris Snook said the company targets established cycling enthusiasts, capitalizing largely on the growing cycling and virtual fitness training market in the United Kingdom and Europe.
"Zwift is the first to really link the physical world to the e-sports world, and to create high-level racing with pro athletes by bringing existing pro athletes to the e-sports platform for the first time," Snook said.
Since its 2014 launch, Zwift has raised a total of $166 million and plans to launch its league and add 100 new employees to its existing staff of 200 by the end of first quarter 2019. The bulk of the company's funds were raised in a $120 million Series B fund that was finalized Dec. 19.
The round was led by Swiss growth-stage investment firm Highland Europe and featured participation from existing investors Novator, based in London, and Causeway Media Partners, a Boston-based venture capital outfit.
The company declined to disclose revenue figures.
Zwift operates on a subscription model and charges $15 a month for access to its software, which allows users to participate in virtual cycling races. Unlike some other fitness programs, Zwift doesn't lock users into long contracts, according to Snook, who said the company's Chief Executive Eric Min prefers the no-contract subscription model.
"It keeps us on our toes, because we know we have to deliver month over month to get users to keep their subscription going," Snook said.
While the e-sports-as-fitness model is still nascent, some industry onlookers are excited about it.
"From an investor perspective, if you have data around subscriptions, that is exciting," said Malte Barth, principal at Germany and Santa Monica-based e-sports investment firm Bitkraft Esports Ventures. "If people have credit cards down, if they use it or not, they (still) keep paying. It'll make you excited if you can see renewal and churn rates."
Hardcore
Zwift isn't marketed to casual cyclists or traditional e-sports gamers looking to try something new, according to Snook.
"Our real market is the enthusiast cyclist, not the health and fitness user. ... We go after that core cyclist looking to maximize their training (and) we want to be something that allows cyclists to train more often than they otherwise would have been," he said.
Prev Next