Redesign for Hodgetts and Fung
ARCHITECTURE: Firm joins Mithun, broadens focus
Friday, January 11, 2019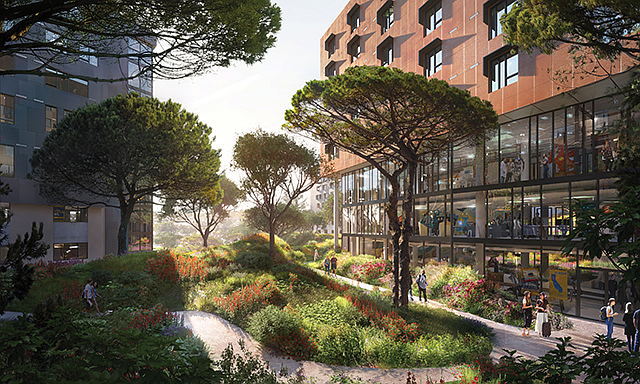 Culver City architecture firm Hodgetts and Fung, known for its designs of prominent performing arts and cultural venues such as the Hollywood Bowl, is merging with Seattle-based Mithun Inc., executives with the two companies told the Business Journal last week.
Craig Hodgetts and Hsinming Fung, who co-founded Hodgetts and Fung 35 years ago, are now partners at Mithun; Fung is now managing partner of Mithun's Los Angeles office, housed in the renovated Culver City warehouse building Hodgetts and Fung acquired in 2000. With the merger now closed, all nine employees of Hodgetts and Fung will be become Mithun employees, and the combined company's Los Angeles operation will be known as Mithun Hodgetts and Fung.
Hodgetts said the merger will allow the new Los Angeles operation to bid on larger, more culturally significant projects.
"In recent years, we have had projects of larger scale that required partners, so we were very pleased when we were contacted by Mithun," Hodgetts said. "Their character is a perfect blend with our own design culture: Both of our firms take a deeper look into architecture and ask, 'How does this project benefit the community as a whole?'"
Mithun, founded in 1949, already has two offices: its Seattle headquarters and one in San Francisco. The firm has 170 employees, including five in Los Angeles who will move into the Hodgetts and Fung office from shared and temporary offices they had been occupying in L.A. and Irvine. The firm specializes in designing housing on and around university campuses; two of its projects are now under construction around the UCLA campus.
"Finding such strong design talent and fit with Craig and Ming is remarkable, and we are very excited about the positive impact we will be able to make together in Southern California and beyond," said Dave Goldberg, Mithun's president.
Hodgetts said this focus on university housing complements his own company's focus on arts and cultural institutions. Among Hodgetts and Fung's recent projects: the recent adaptive reuse of the 1,200-seat Robert Frost Auditorium in Culver City and United El Segundo Inc.'s Sunset and La Cienega retail/commercial complex. The firm has also designed museum installations for the Los Angeles County Museum of Art, the Museum of Contemporary Art and the Library of Congress.
Hodgetts, 80, said that to handle the transition and the expected increase in work for the new combined firm, he will end his teaching role at UCLA. He has led the school's architecture and design SupraStudio, which recently partnered with Elon Musk's hyperloop tunnel transport project. Fung, who is 65, was not available for the interview; she has served as design partner on the temporary Towell Library at UCLA and a new performing arts center at the California Institute of the Arts in Santa Clarita, among other projects.
Prev Next
Stories You May Also Be Interested In