Putting On The Dog
Retail: On Rodeo Drive, retailers have tails wagging
Friday, April 12, 2019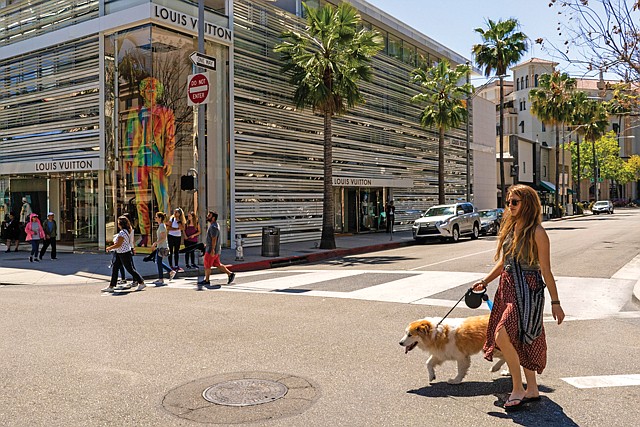 Does your bulldog love Brioni? Does your hound prefer Hermès? Or does your precious poochie have a taste for Gucci?
Rodeo Drive's high-end retailers say that, increasingly, their clientele is answering yes, and that trend has driven the storied district's shopkeepers to provide the same scrupulous service to canines as they to do their human companions.
At Rodeo Drive's Polo Ralph Lauren store, the staff presents visiting pups with a silver-toned metal tray holding ceramic bowls with water and biscuits, laid out on a white cloth napkin.
Lloyd Balbier, general manager of Italian luxury menswear purveyor Ermenegildo Zegna's Beverly Hills location, said dogs of all sizes are "100% welcome" amid the $5,000 wool suits and $400 silk ties. Accommodating dogs is not just fun for the staff but also necessary in today's digital retail climate, Balbier said. "When you look at retail now, you have to think, 'What about the experience is going to keep people coming?'" Differentiating the in-store experience from that of online shopping, "is always top of mind," he said.
The Ermenegildo Zegna store counts several labradoodles among its regular visitors.
"We have water bowls and treats for them. We have regular clients who (bring) their dogs every time they come into the store," Balbier said. "They are part of our clients' family, so they are part of ours."
The store also sells dog accessories including leashes and collars. "Typically, we can't keep them in stock," he said. Balbier said shoppers on the street will often come inside just to meet and pet an adorable mutt.
Rodeo Drive is one of the most expensive shopping districts for retailers in the United States, with storefront real estate leasing for approximately $875 a square foot, according to a Business Insider report. That's second only to Upper Fifth Avenue in Manhattan where retail space leases for as much as $3,000 per square foot.
Considering the high cost of doing business on Rodeo, one might assume the street's designer fashion, fragile decor and fine jewelry retailers would be averse to furry, drooling customers with clumsy wagging tails. But local merchants say being able to accommodate dogs of all sizes and breeds is a way to ensure customers come, sit and stay.
Sokie Harry, a VIP sales representative for Versace's Rodeo Drive store, has worked at the location for 12 years and said she has observed a rising number of dog visitors in recent years. "Because it happens so often, I think it would be odd if someone tried to come into a store and you told them, 'We don't allow dogs,'" she said.
For reprint and licensing requests for this article, CLICK HERE.
Prev Next