PROJECT RUNWAY
United, Southwest want more LAX gates; cargo facility demolition could be sped up
Friday, April 12, 2019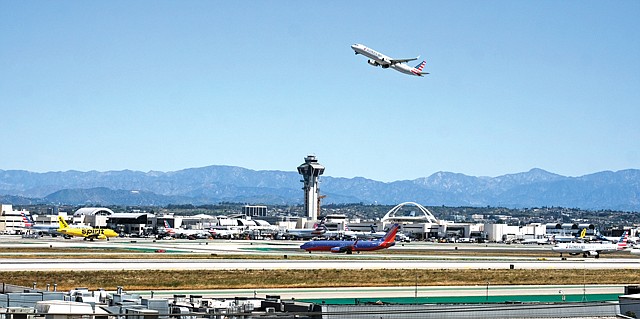 United Airlines and Southwest Airlines confirmed last week they are in separate negotiations with Los Angeles International Airport officials concerning two terminal additions unveiled earlier this month.
To make way for one of those proposed terminal additions, a cargo warehouse operated by Torrance-based Mercury Air Group Inc. would be torn down, the company's chief executive confirmed last week. Mercury Air had already planned to move out of that warehouse once a new consolidated cargo facility is built.
Airport officials on April 4 released a preliminary environmental planning document containing renderings and information about the general size and scope of a new terminal east of the current terminal loop and an add-on concourse to Terminal 1.
Both terminal additions had been on the books for years but only this month moved off the back burner. Airport officials' stated goal is completing construction in time for the opening of the 2028 Summer Olympic Games, which will be held in Los Angeles.
The additions are not part of the $14 billion overhaul of the airport and its access routes now under way.
The proposed terminal additions face opposition from El Segundo, which borders LAX on the south. Immediately after the release of the environmental document on April 4, the city issued a statement opposing the terminal additions. A spokesman for the city late last week said officials from El Segundo "have had ongoing productive discussions" with airport officials but did not provide any more detail.
International airlines?
United Airlines, whose parent is Chicago-based United Continental Holdings Inc., is negotiating with officials from Los Angeles World Airports, the city agency that operates LAX, over United's use of the proposed Terminal 9. The terminal, a 1.2-million-square-foot facility with 12 new aircraft gates, would be located east of Sepulveda Boulevard and south of Century Boulevard — most notably, east of the light pylons that mark the current entrance to the airport loop.
"The proposed new terminal would be state of the art with gates that can accommodate domestic and international aircraft, and connect to our Terminals 7 and 8 via a walkway," United Airlines said in a statement released last week to the Business Journal.
United also said it would like to reserve much of the new terminal space for some of the 28 international airlines that are part of its Star Alliance global airline network.
United has long been the No. 3 carrier at LAX by passenger volume, behind American Airlines Group Inc. of Fort Worth, Texas, and Atlanta-based Delta Air Lines Inc. Last year, according to statistics compiled by Los Angeles World Airports, 12.9 million passengers flew United at LAX, up from nearly 12 million in 2017; United's market share climbed slightly to 14.8% from 14.2%.
For reprint and licensing requests for this article, CLICK HERE.
Prev Next