Schatz Set to BID Farewell
Friday, September 14, 2018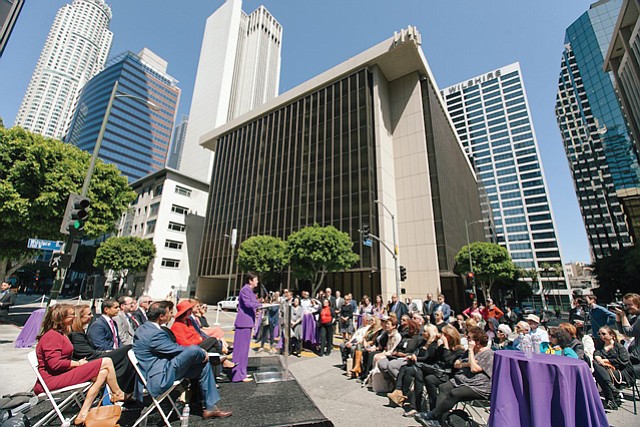 By DANA BARTHOLOMEW Staff Reporter
Carol Schatz plans to retire as head of the Downtown Center Business Improvement District on Sept. 30, ending a run of nearly three decades when she played a key role in the renaissance of downtown Los Angeles from her current position as well as a prior post in charge of the Central City Association.
Schatz has been closely identified with downtown's redevelopment since 1995, when she took the chief executive's post at CCA. She spent nearly 20 years in dual roles with the business advocacy group and the business improvement district, which was formed by property owners in the Financial District and other parts of downtown.
Schatz stepped down from day-to-day duties running CCA in 2016, and laid out a plan to serve two more years as president and chief executive of the Downtown Center BID.
The business improvement district has named Suzanne Holley, who currently serves as executive vice president and chief operating officer of the organization, to fill Schatz' roles.
"It's been a great privilege to have played a central role in planning and leading downtown L.A.'s renaissance," Schatz said in a statement. "The DCBID was a key factor in the downtown renaissance and in bringing in more than $30 billion in new investment to (downtown L.A.)."
Schatz oversaw the founding of the Downtown Center Business Improvement District, and led it through four successive renewals.
She helped spearhead a statewide effort two decades ago to pass legislation to allow property-based business improvement districts.
Schatz is credited for being a leading strategist and cheerleader for downtown growth during her nearly three decades of business advocacy – both in drawing together the many constituents of downtown, and in reaching out to attract capital and investors.
"The whole point was to show that something different was happening in downtown L.A.," Schatz said.
Downtown has added 30,000 units of housing since the business improvement district was started. It's population has increased from 18,000 to 72,000 residents. Another 10,000 units are under construction, with another 34,000 units in the planning stage.
The Downtown Center Business Improvement District also championed the creation of thousands of new businesses and more than 200,000 permanent and construction jobs.
The City of Los Angeles dedicated the corner of Wilshire Boulevard and Hope Street as Carol Schatz Square in her honor earlier this year.
"The DCBID board and all of the downtown property owners want to thank Carol for her many years of leadership and vision and for helping to make the downtown renaissance possible," said Cari Wolk, chair of the business improvement district and president of Athena Parking Inc., in a statement. "She will be greatly missed.
Holley said that as the district's new chief executive, she intends to build on the foundation that Schatz put in place.
"As the BID begins its third decade, we plan to leverage technologies and best practices in all areas of our work – from security and maintenance to marketing and economic development – in the way that we engage our stakeholders, support our residents and businesses, attract new investment and development," Holley said in an emailed statement. "This will help us keep pace with, and lead, the next phase of downtown's growth, and it's emergence as a truly world-class city."
– Howard Fine contributed to this report.