Soon-Shiong's Other Media Deal: Sale of Tronc
Stake in prior owner of Times gives him leverage as negotiations heat up
Friday, September 7, 2018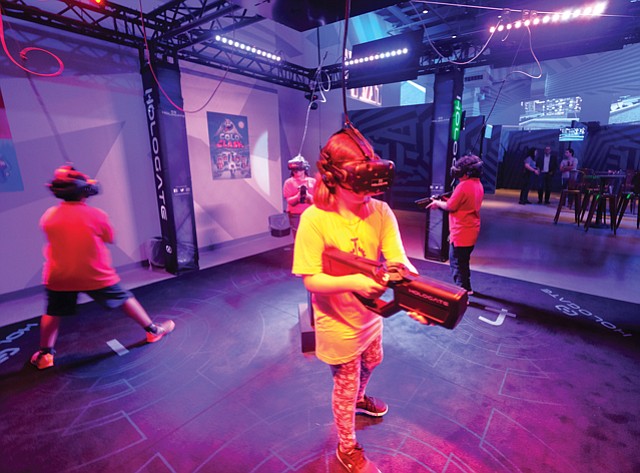 Two Bit Circus representatives also said that the company has received an undisclosed sum from CJ CGV, a South Korea-based entertainment and theatrical conglomerate that is the 5th largest movie exhibitor in the world.
Two Bit Circus's chief executive Brent Bushnell is the son of Chuck E. Cheese founder and Atari co-founder Nolan Bushnell.
Two Bit Circus started in 2012 by building booths and putting together programs for corporate events and retreats. Specialty items for clients have ranged from a cloud that rains for tequila for the Mexico Tourism Board to a virtual reality set that gives customers the chance to compete with avatars representing professional football players.
But the company's primary focus is now on the Arts District, Bushnell said.
The plan, he said, is to make money from patrons at the place on Mateo Street paying to play various games that Two Bit Circus either created or obtained through content creator partnerships.
"What we have built here is basically a big platform – it's like a huge iPhone," Bushnell told the Business Journal. "There is a lot of great content looking for an audience."
Bushnell said Two Bit Circus is not simply capitalizing on entertainment trends, but actually seeking to adjust consumer behavior.
"We have hit a nadir of social interaction," Bushnell said, describing young adults who spend time in bars and other public spaces glued to their iPhones.
The Two Bit Circus games will nudge customers to "go play together and explore the world," creating at the very least he said, with a smile, "interesting stuff for Instagram."
Clippers Ship to Inglewood
Los Angeles Clippers owner Steve Ballmer, often captured on TV cameras exuberantly rooting for his team, transferred some of that enthusiasm to a press statement Aug. 31 that thanked the California legislature for expediting the environmental review process for a proposed stadium for his team in Inglewood.
"We are now one step closer to bringing the world's best basketball arena to a community that deserves the best," Ballmer said in response to the state legislature passing Assembly Bill 987, a measure that sets a limit of 270 days on the amount of time that the state can evaluate challenges to the project's environmental impact review once it's filed.
The Clippers don't plan to move to Inglewood until their 2024 lease with the Anschutz Entertainment Group Inc.-owned Staples Center runs out. The Clippers have vowed to privately finance their site, but haven't said what it will cost, or what might be in store for the venue on the approximately 315 days there aren't Clippers home basketball games.
Staff reporter Matthew Blake can be reached at mblake@labusinessjournal.com or (323)556-8332.
Prev Next