KCET Set to Share Billing
MEDIA: Deal with OC station ends flight from PBS
Friday, May 18, 2018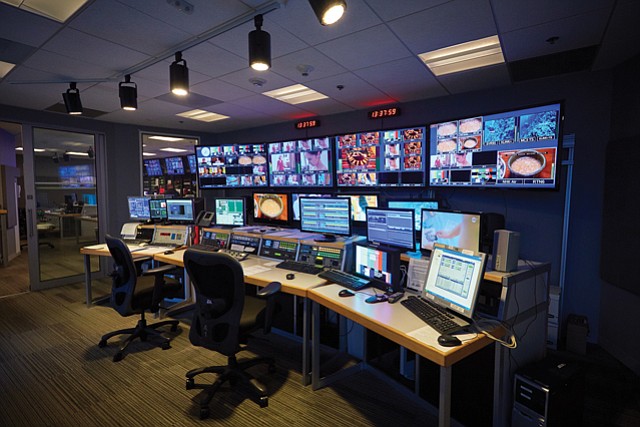 KCETLink Media Group Inc.'s proposed merger with PBS SoCal/KOCE-TV Foundation in Orange County aims to create a new center for public broadcasting in Burbank as part of a two-headed public TV station.
The plan calls for KCET's current home in The Pointe office tower at 2900 W. Alameda Ave. to serve as one of two headquarters for the new company.
"The merged organization will use the two original hubs – one in Burbank and one in Costa Mesa," said PBS SoCal Chief Executive Andrew Russell, who will head the yet-to-be-named company. "They will continue to be vital to the organization."
The new name of the organization could represent an overarching brand, with both of the stations keeping their current call letters and common monikers.
Both KCET and PBS SoCal will, in any case, operate under the ultimate banner of the publicly subsidized broadcasting system. Both plan to keep all of their existing channels and outlets, which include seven broadcast channels, a satellite station and two websites between them. Russell said the broadcasters plan to pool their collective assets without making cuts to staff or programming. He framed the move as a merger of equals that offers different types of content. No payments were made to either side as part of the deal.
KCET broke away from the Public Broadcasting Service network in 2011, giving up its standing as the flagship public TV station for the Southern California region. It instead opted to try its fortune as an independent, nonprofit presence focused on original programming covering local news, arts and culture.
PBS SoCal, meanwhile, picked up the flagship status from the national network, and became the main source for award-winning PBS programs such as "Downtown Abbey" and Ken Burns' documentaries.

The move to join forces aims to blend the two staples of content,
"The merger will bring complementary strengths for both sides," Russell said. "This isn't a merger where there is a lot of overlap."
Employee reorganization
The Burbank facilities will remain KCET's production center, where it now has about 70 employees and could eventually host 10 to 15 more from PBS SoCal. Russell expects the integration to take about 12 months as the stations map out their local production plans.
"There will be good opportunities for cost-effective operations," said Russell. "We'll find those pieces fit together pretty well."
KCET trimmed its space in Burbank in October when it subleased close to half of the 55,000-square-foot facility to The Switch, a New York-based firm that provides video signal routing services. The company took over four control rooms, nine edit bays, a 2,500-square-foot soundstage and a 1,500-square-foot virtual green screen studio, according to The Switch. The Switch also handles the master control and broadcast origination for KCET and its satellite channel Link TV as part of the lease deal.
For reprint and licensing requests for this article, CLICK HERE.
Prev Next