MBA Guide: USC Marshall School of Business
Custom Content by the Los Angeles Business Journal
Monday, May 14, 2018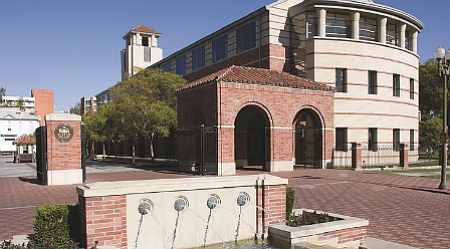 The USC Marshall School of Business is a school of firsts: The first in Southern California (1920), the first to become AACSB accredited, the first to mandate international travel as part of every students' core curriculum.
The list goes on: The first dedicated center for entrepreneurial studies. The first West Coast business School to join the Consortium for Graduate Study in Management. The first to offer an MBA-level class in FinTech. The first to take MBA students to Cuba.
In nearly every area of higher business education, USC Marshall has taken the lead. And it's not slowing down anytime soon. USC Marshall students are enjoying new state of-the-art facilities and a roster of new faculty hires, including MBA-level scholars from Harvard, Stanford and NYU Stern.
Anchored in Southern California, USC Marshall boasts more than 80,000 alumni operating in 123 countries around the globe. USC Marshall offers its MBA students access to a truly first-rate business education on an unrivaled global scale.
Our flexible degree programs offer something for current and aspiring business professionals at every stage of their career.
USC Marshall is proud to offer five highly-ranked MBA programs:
FULL-TIME MBA
USC Marshall's full-time MBA, a 2-year program, offers students a comprehensive grounding in core business principals with the opportunity to specialize according to professional interests.
MBA FOR PROFESSIONALS AND MANAGERS (MBA.PM)
Designed to address the challenges faced by working professionals, MBA.PM is a part-time, evening program lasting 33 months. The program also offers classes on Saturdays during the first year. Students may choose to complete the first year of their degree in Los Angeles or Orange County.
EXECUTIVE MBA PROGRAM (EMBA)
A 22-month program designed for senior managers and seasoned professionals who intend to remain fully employed as they pursue their degree. EMBA offers two convenient locations, Los Angeles and San Diego.
INTERNATIONAL MBA PROGRAM
Mid-career professionals with international management experience come together in this one-year, full-time program that emphasizes global strategy and experiential learning. IBEAR is the leading accelerated international MBA program in the United States.
ONLINE MBA (OMBA)
An award-winning digital curriculum is led by leading members of the USC Marshall faculty in this 21-month online MBA. Admitted students from anywhere in the world can access the same core business fundamentals as on campus students, in addition to emerging online business topics such as digital analytics, social media, virtual teams and entrepreneurial thinking.
NAME OF INSTITUTION
University of Southern California (USC)
For reprint and licensing requests for this article, CLICK HERE.
Prev Next