Long Beach Airport Slated for $59M Improvements
Wednesday, May 9, 2018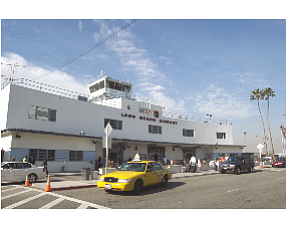 The Long Beach City Council on May 8 voted unanimously to award a three-year, $59 million contract for terminal-area improvements at Long Beach Airport.
The contract was awarded to a team of four companies: San Francisco-based Swinerton Builders; Dallas-based design firm Corgan Inc.; and two local companies: Studio One Eleven, a Long Beach architectural and urban design firm and VCA Engineers of Alhambra.
The contract work involves a series of improvements to the terminal area, all designed to improve the flow of passengers from the curb to the gate, enhance passenger convenience and reduce vehicle congestion in the terminal loop.
"This project will ensure that Long Beach Airport remains one of the top-ranked airports in the United States, well-known for its ease of use and world-class amenities for residents and visitors," Long Beach Mayor Robert Garcia said in a statement. "I am sure these improvements will make our airport even better and improve its ranking in the years ahead."

Priority projects slated for completion next year include improvements to the terminal ticketing lobby, the baggage claim area and the checked baggage inspection facility.
The next slate of projects involves rehabilitation of the historic terminal, relocation of the rental car customer transaction area to the first floor of that historic terminal building and improvements to the meet and greet plaza.
The final construction improvements include the terminal loop roadway and signage, a new surface lot for rental car storage and a new ground transportation services area.
Economy, education, energy and transportation reporter Howard Fine can be reached at hfine@labusinessjournal.com. Follow him on Twitter @howardafine.
For reprint and licensing requests for this article, CLICK HERE.