STYLE | Cassowary Tale
John R. Lewis – Los Angeles Zoo and Botanical Gardens
Friday, May 4, 2018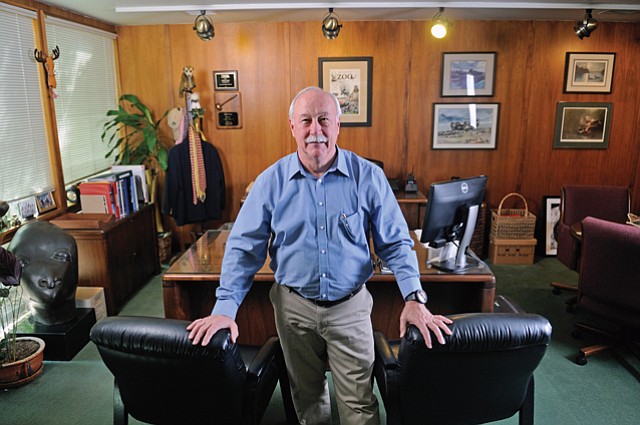 Los Angeles Zoo Director John R. Lewis worked hard to tidy up his office the day before a visit from the Business Journal but confessed that when no one's watching he tends to cover his desk and tables with carefully sorted books and papers.
Then he can't remember what's in the piles.
"If my pile isn't where I thought it was, sometimes I'll go through my piles two or three times looking for it, matching it up with where I thought it was," Lewis said with a laugh. "I'm pretty much a visual learner and worker, so I like to see ideas, and I can see those (piles) to spark new ideas."
Lewis spends plenty of time out among the animals in the zoo's 133-acre park. His office, meanwhile, is tucked away in the Zoo Building, one of two small structures on the campus. The other houses the Greater Los Angeles Zoo Association, a nonprofit that serves as a support arm of the zoo, which is owned and operated by the City of Los Angeles. GLAZA's annual Beastly Ball fundraiser at the L.A. Zoo, this year commemorating Endangered Species Day, is scheduled for May 19.
Lewis' office is much more than misplaced piles of potential ideas. The walls and shelves are full of reminders of a long career that began with a Bachelor of Science in Animal Science from Northeast Louisiana University, where he stayed on for additional graduate study in microbiology.

Lewis's resume includes a tenure as director of the John Ball Zoological Gardens in Grand Rapids, Mich., and previous positions at the Minnesota Zoo and Louisiana Purchase Gardens & Zoo.
Objects in his office include favorite travel and academic books, artifacts from worldwide travels, and, of course, plenty of animals -- stuffed toys, carvings, office items such as his unique viper-headed stapler, and plenty of wildlife images.
One photo that looms large is a close-up of a cassowary, native to the tropical forests of New Guinea and Australia and one of Lewis' favorite creatures. Lewis was asked to help veterinarians treat a female cassowary with a sinus infection during his first zoo job in Louisiana. He soon found out his only role was to fend off an amorous male cassowary.
"I respected him ever since," Lewis joked.
Lewis came to L.A. Zoo in 2003, when the institution was recovering from a near loss of accreditation in the mid-1990s due to dilapidated animal pens and other problems.
"There was still a lot of work to be done," the executive said.
Lewis said the zoo's main goal is conservation, and creating an environment so humans can connect with animals.
"You can meet the intrinsic needs of an animal without making it look like the wild," Lewis said. "But those natural habitats help us interpret those animals to the visitors. People are going to make a difference in terms of conservation, and if we can't get them engaged, if we can't get them sparked by their experience here, they just don't pay attention."