L.A. Weekly Abruptly Cancels Top Restaurants Event
Friday, March 23, 2018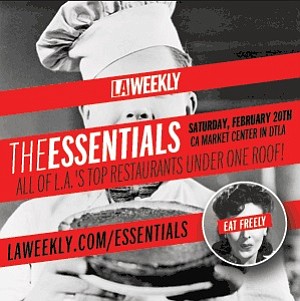 L.A. Weekly's "The Essentials" event was cancelled March 23, two days before the cuisine-themed soiree was set to take place at the California Market Center in downtown Los Angeles, according to the venue's website.
By midday on March 23, California Market Center wrote "cancelled" by the event on its calendar, and noted, "For more information please contact LA Weekly."
A link on the LA Weekly's website for purchasing tickets, which cost up to $110, stated that tickets were "offsale."
Messages left with the L.A. Weekly and California Market Center were not returned.
The event was to commemorate the Weekly's March 23-29 double issue that listed the alternative newspaper's 99 essential restaurants in Los Angeles.
L.A. Weekly ownership changed hands in December when Semenal Media, made up of mostly Orange County-located investors, purchased it from Voice Media Group. The new ownership laid off nine of 13 editorial staff members within a week of completing the sale.
Media and entertainment reporter Matthew Blake can be reached at mblake@labusinessjournal.com or (323) 556-8332.
For reprint and licensing requests for this article, CLICK HERE.