2018 Automotive Review: Serenity Through Technology - The Pioneering Bentley Bentayga Hybrid
Custom Content by the Los Angeles Business Journal
Monday, March 19, 2018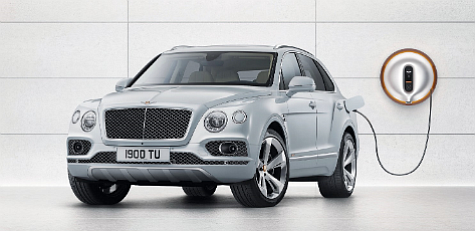 Bentley is today announcing full details of the world's first luxury hybrid model. The Bentayga Hybrid represents Bentley's first step towards full electrification, combining the serenity of silent motoring with exquisite comfort and effortless performance.
Offering the best of both worlds, the new plug-in hybrid model combines an advanced electric motor with a powerful and efficient new-generation V6 petrol engine. The hybrid version of the world's most luxurious SUV will be the company's most efficient model ever with CO2 emissions of 75 g/km (NEDC).
The Bentayga Hybrid feels and rides like a true Bentley, providing the refinement, effortless performance and exquisitely tranquil cabin environment for which the luxury British brand is famed. It represents the future of luxury mobility; an oasis of calm and tranquillity in the city and beyond.
Adrian Hallmark, new Chairman and Chief Executive Officer of Bentley Motors, said, "The Bentayga Hybrid is our first step on the road to electrification, combining traditional Bentley values with the very latest technologies. It gives customers the best of both worlds – engaging, effortless performance on the open road and silent, emission-free driving in the city, which will become increasingly important with the ever-changing regulations around the world.
"Following Bentley tradition, the Bentayga Hybrid pioneers a new automotive sector – the luxury hybrid – and sets Bentley on the path towards a sustainable electrified future."
Bentayga Hybrid is not yet available to order. It will become available to order in selected markets from the second half of 2018.
INTELLIGENT, EXPERIENCE-ENHANCING TECHNOLOGY
At the heart of the Bentayga Hybrid are two power sources – a highly efficient electric motor and a new turbocharged 3.0-litre V6 petrol engine. The E Motor acts as both an electric motor and a generator to offer a seamless driving experience and guaranteeing maximum electric-only range.
The Hybrid adds a new dimension to the existing range of luxury Bentayga models. It features all the flexibility associated with the W12, V8 Diesel and V8 derivatives, with the same sure-footed permanent four-wheel drive and four on-road modes – Sport, Bentley, Comfort and Custom.
The Automatic Start-Stop switch is replaced with a control for the three E Modes – EV Drive, Hybrid Mode and Hold Mode. These will enable the driver to manage battery usage during a journey.
The Bentayga Hybrid requires new and different information to be relayed to the driver. As a result, a revised infotainment screen and Driver's Information Panel with E Motion information have been designed to provide details on performance, consumption and energy source.
For reprint and licensing requests for this article, CLICK HERE.
Prev Next