L.A. River Project to Include Gehry Partners
Tuesday, March 6, 2018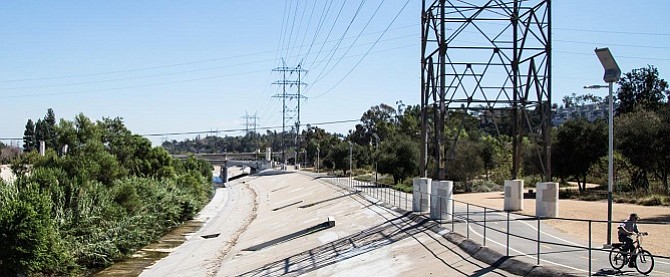 L.A. County officials on March 5 announced that county staff has selected a team that includes the firm of internationally renowned architect Frank Gehry to update the county's 22-year-old master plan for the Los Angeles River.
Venice-based Gehry Partners and two other companies were selected through a competitive bid process for the $7 million, two-year contract. The team is led by Geosyntec of Boca Raton, Fla. – which will oversee geotechnical and other engineering aspects of the master plan – and includes Philadelphia-based landscape architect Olin. Los Angeles nonprofit River L.A. is also part of the team.
Since 2015, Gehry Partners, Olin and River L.A. have been working to reinvigorate the Los Angeles River. Their proposal calls for the 51-mile-long river to be transformed into a "linear Central Park" with development restricted to select zones and the rest devoted to park space and recreation. Their effort has been met with some criticism from other groups – most notably Friends of the Los Angeles River.
This contract marks the first time this team will be working with a public sector agency – the Los Angeles County Department of Public Works – to craft a master plan. The county's last master plan for the river was in 1996.
The Geosyntec-Gehry-Olin-River LA team beat out two other teams for the contract: one led by Pittsburgh-based Michael Baker International Inc. and the other led by Los Angeles consulting and engineering firm Psomas.
Economy, education, energy and transportation reporter Howard Fine can be reached at hfine@labusinessjournal.com. Follow him on Twitter @howardafine.