Leiweke Live
Sports business vet sheds light on arena alliance, Oak View's growth trajectory
Friday, June 22, 2018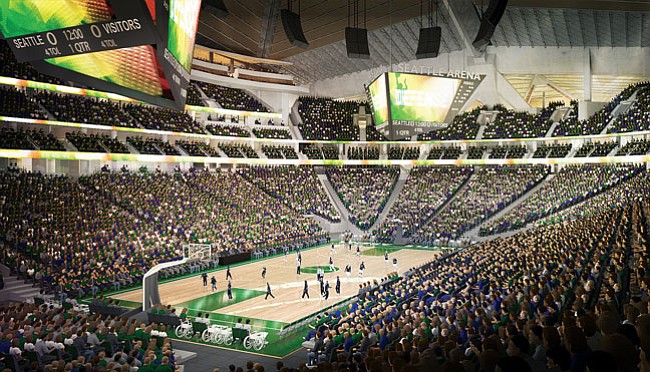 Tim Leiweke speaks confidently about the progress of the Oak View Group, the three year-old sports and entertainment facilities company he founded with Irving Azoff, former chairman of Live Nation Entertainment Inc. in late 2015.
Leiweke was president of Anschutz Entertainment Group until he was fired in 2013, shortly after AEG's push for a downtown National Football League stadium in Los Angeles unraveled. Westwood-based Oak View is wearing many hats in its self-proclaimed role as disruptor of the venues industry. Some of those roles bump up against AEG, which declined any comment on Leiweke's venture.
Oak View Group's success will likely depend in large part on its ability to design and build or redevelop arenas, starting with Seattle's KeyArena. Leiweke hopes to bring the National Hockey League and National Basketball Association to the venue after completion of a $660 million refurbishment – a plan Oak View Group has agreed to finance and the City of Seattle has approved.
Business Journal's Matthew Blake caught up with Leiweke for a talk last week, and edited excerpts of the conversation follows.
Where is your business now?
We now have 410 employees, and offices in Los Angeles, Seattle, and New York. We also have an office in Chester, Pennsylvania that focuses on facility management.
We also plan to open an office soon in London. We have an equity partner now in Silver Lake (a Menlo Park-based private equity firm that put a reported $100 million into the company in March), and they've been absolutely phenomenal.


Your company website focuses a lot on an "arena alliance" and how you work with multiple venues as well as concert promoters. But what kind of consulting and assistance are you providing for these arenas and bookers that they can't do in-house?
We currently have about a dozen different businesses with 28 of the top 30 arenas in North America. We pull together strategies, sell advertising together, and book together.
Sponsorship is big. We can get sponsorship contracts with a retailer like Walmart (Inc.) where the arenas are … selling together. That opens the door for these bigger companies that don't want to do a one-off buy with one arena. We've done $100 million through these advertising deals. Can [arenas] exist without us? Yes. Do we ultimately help them? Yes.
What are other ways that the Arena Alliance has generated revenue?
We have an alliance of baseball stadiums that is simply booking content for shows. We helped hustle up some shows for teams when the stadium is empty.
For reprint and licensing requests for this article, CLICK HERE.
Prev Next