Women's Council & Awards 2018: Getting to Equal in Los Angeles: Driving Equality in the Workplace
Custom Content by the Los Angeles Business Journal
Thursday, June 14, 2018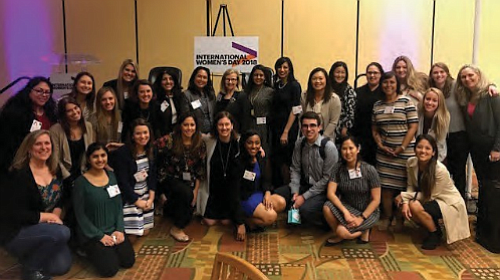 Equal pay and achieving a gender-balanced workforce has become a priority for government, civic and business organizations in Los Angeles. We are seeing this shift happen in Los Angeles – right here, right now.
The City of Los Angeles, for example, was one of the first cities to adopt the Convention on the Elimination of All Forms of Discrimination against Women (CEDAW). To put the ideas into action, Mayor Eric Garcetti's administration has created gender equity liaisons for each city department or office, and requires departments to put in place a strategy that fosters equal participation of women at all levels of leadership.
Furthermore, Amy Wakeland, the wife of Mayor Garcetti, spearheaded a movement to get more women serving as board commissioners for the city of Los Angeles. And this year, according to Wakeland, more women dominate the board of commissioners than ever before. Recently, "Women Rule" – a community of influential women devoted to expanding leadership opportunities for all women – hosted their first summit in Los Angeles. Women such as Tamara Mellon, Vera Santamaria and Senator Barbara Boxer engaged in "conversations around how to change paradigms and perceptions around gender – and why now is the moment to act."
At Accenture, gender equality is a core part of the company's mission and values, and it has set a goal to achieve a gender-balanced workforce, with 50 percent women and 50 percent men, globally, by 2025.
According to David Wolf, Accenture's Southern California Office Managing Director, "We're moving toward a gender-balanced workforce, and here in Southern California, that idea resonates with our employees, our clients, and the people who will join us. Having a workplace that is equal and diverse mirrors our region, and I'm excited about what it means for Accenture, locally as well as globally."

Accenture's Southern California office recently hosted its 2018 International Women's Day Celebration, gathering more than 100 local employees and client executives for a day of thoughtful discussion, insightful speakers, and peer-to-peer engagement. This year, across the globe, Accenture observed International Women's Day in nearly 50 countries.
During this event, Accenture unveiled its latest report: "Getting to Equal 2018 – When She Rises, We all Rise." Research indicates that company culture is key to unlocking gender equality and narrowing the pay gap. More specifically, it reveals what it takes to create a workplace culture in which women and men have equal opportunities for advancement and pay and where all people thrive – a culture of equality.
For reprint and licensing requests for this article, CLICK HERE.
Prev Next