Mixed-Use Development Part of Fairplex Future?
Greenbelt could circle residential development near Metrolink station
Friday, June 8, 2018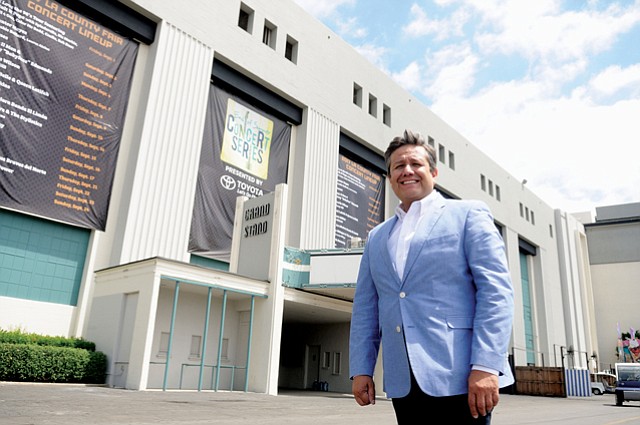 Fairplex in Pomona has formally unveiled a 58-page strategic plan for the county-owned facility that hosts the Los Angeles County Fair to become a hub for music and food as well as a jobs center.
Miguel Santana, the chief executive of the Los Angeles County Fair Association, told the Business Journal that the plan is to expand on Fairplex's historic role, and to build a live-work-play community on the 487-acre site.
"Our vision builds on the history and values that makes this place special," Santana said.
Fairplex has held meetings with business and community leaders as well as elected officials since last year to draw up the strategic plan.
One proposal includes the construction of a green belt to encircle the complex, which Santana said was "in response to feedback from the community that the campus is not accessible to members of the community unless they're coming to an event that they pay for."
Another possibility is a transit-oriented, mixed-use development at Fairplex's northern end – near the site of the Los Angeles County Metropolitan Transportation Authority Gold Line's La Verne station, which is part of a $1.5 billion extension that is estimated for completion in 2027.
In the short term, the theme for this year is "Route 66," and will include a day when Los Angeles County residents will be charged $6.60 admission.
The nonprofit that runs Fairplex has been in the red since 2010, though its deficit has shrunk in recent years, falling to $1.7 million deficit in 2016 – about half of 2014's amount.
Be Like Seattle
Southern California should look to Seattle for inspiration when it comes to seeking solutions on its housing crisis, according to the Los Angeles/Ventura chapter of the Irvine-based Building Industry Association of Southern California.
Strong population growth and a booming economy – spearheaded by Starbucks Corp. and Amazon.com Inc. – led to soaring housing prices in Seattle over the last 10 years.
But a willingness by the city of Seattle to accommodate the development of new residential units across price ranges – about 21,000 since the Great Recession – has helped stabilize prices, according to the Building Industry Association study. The result to date, the organization contends: Monthly rents in Seattle fell nearly 3 percent during the first quarter of this year to an average $1,647 for a one-bedroom apartment.
The city of Los Angeles, in comparison, has seen development split, with the high end of the market busy and the low-end also brisk, thanks largely to subsidies.
For reprint and licensing requests for this article, CLICK HERE.
Prev Next