China Goes Against Grain
Friday, January 26, 2018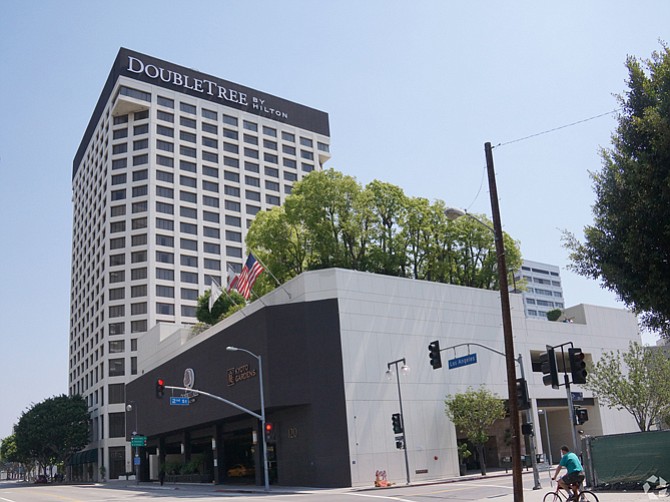 L.A.'s commercial real estate market draws plaudits from investors around the globe, but that won't help with buyers from China, who have cut their pace of deals to the lowest level in five years.
It's a dip by design, prompted by policies of China's central government, real estate experts say. And it runs counter to a recent survey that puts Los Angeles at the top of the U.S. market from the perspective of foreign investors in commercial real estate (see related story, left).
Local commercial real estate sales involving Chinese investors plummeted 52 percent last year to $316 million, compared with $657 million in 2016, according to data from downtown commercial real estate brokerage firm CBRE Group Inc.
About 18 percent of the commercial real estate in L.A. County was foreign-owned in 2017, up three percentage points from the year before.
China remained a big player, accounting for 21.7 percent of all commercial real estate sales to offshore buyers in the five-year period of 2013 to 2017, according to CBRE.
But it was a distant second to Canada, which accounted for $3.5 billion in commercial real estate buys here over the same period to secure a nearly 28 percent share of the total of sales to foreign buyers.
Qatar was a close third with $2.67 billion in transactions and a 21.3 percent market share.
China's dip tracks back to late 2016, when Beijing began to impose limits on companies attempting to send money out of the country to purchase foreign assets, and also subject them to greater scrutiny.
"It's definitely noticeable," said Gregory Karns, a Century City-based partner at Cox Castle & Nicholson, who manages the law firm's Pacific Rim group.
On the horizon
Eye-catching developments being built with Chinese dollars dot the landscape.
Downtown's $1 billion luxury condo-and-hotel complex Metropolis is still under construction by Greenland USA, the U.S. subsidiary of Shanghai-based Greenland Holdings. Beijing-based Oceanwide Holdings is at work on a $1 billion mixed-use project on Figueroa Street across from Staples Center.
But the more recent decline in deals has been unmistakable. Greenland USA pulled out of a 1.9 million square foot mixed-used project near the North Hollywood Metro Red Line station in November. Trammell Crow Co. of Dallas, a subsidiary of CBRE, was to be its partner in the project.
And it's not only commercial real estate where Chinese investment has cooled.
Paramount Pictures announced in November that its expected $1 billion film financing deal with China-based Huahua Media had been scuttled. In a statement, Paramount cited "recent changes to Chinese foreign investment policies" as the reason behind the deal's failure. And the anticipated $1 billion sale of Santa Monica-based Dick Clark Productions by Eldridge Industries to Wanda Group was called off in March 2017, reportedly over a sales price dispute. The matter ended up in a Delaware court.
For reprint and licensing requests for this article, CLICK HERE.
Prev Next