FASHION AWARDS: RISING BRAND AWARD
Custom Content by the Los Angeles Business Journal
Monday, January 8, 2018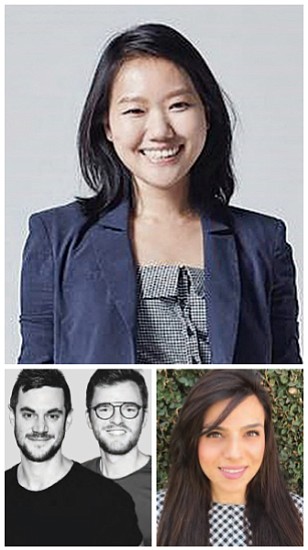 RISING BRAND HONOREE
EUNICE CHO, AELLA
After graduating from Yale with a degree in fine arts, Orange County-raised Eunice Cho headed for New York City and wound up working for a high-end lingerie company. There she took on a number of creative roles while whetting her appetite for the business side of the fashion industry. She decided to go to business school, which led to the realization that she had nothing appropriate to wear to the interviews. It became apparent to Cho that the casual and comfortable clothes she wore to work in the anything-goes environment of fashion didn't meet the expectations of the buttoned-up business world. In classic entrepreneur fashion, Cho decided to create her own solution: AELLA.
Launched three years ago by Cho, AELLA is an online retailer offering women a full line of pants, blazers, and t-shirts. The company has now made its foray into brick-and-mortar sales with a pop-up at Bloomingdale's flagship store in New York City.
In short, AELLA is a three year-old womenswear brand focused on creating everyday essentials for women who are going places. Using patented & proprietary activewear-inspired fabrics, AELLA combines performance benefits with polished, office-appropriate silhouettes. For the on-the-go woman who needs clothing that can keep up, AELLA's entire offering is machine-washable, comfortable, flexible, and wrinkle-resistant. Pants are AELLA's core offering, and the brand offers several services including try-on sizing & stylist consultations, to ease the pain of shopping for pants online.
AELLA is a proud proponent of Los Angeles based sourcing and production. Using the company's South Gate knitting mill, AELLA is able to create and knit proprietary textiles that adhere to the brand's mission of creating machine-washable & performance-based clothing. The majority of AELLA's styles are then produced locally in Los Angeles. In addition, the brand's leadership team regularly partners with and supports Los Angeles based brands & organizations, specifically those founded by women.
FINALIST: COREY EPSTEIN AND MARK LYNN, DSTLD
DSTLD, an LA-based brand, was launched in 2014 under the premise that ethically produced, well-crafted clothing shouldn't cost so much, and that Fast Fashion is an excessive and unsustainable industry. Inspired by the creatives that constitute Los Angeles — filmmakers, writers, entrepreneurs, artists, and designers — Corey Epstein and Mark Lynn set out to build a contemporary brand based on the modern uniform they saw around them: jeans, t-shirts, and other luxury- level basics no person can live without.
For reprint and licensing requests for this article, CLICK HERE.
Prev Next