CFO Awards 2017 Nominees: An Innovative Way to Save Money and Improve the Bottom Line
Custom Content by the Los Angeles Business Journal
Monday, February 26, 2018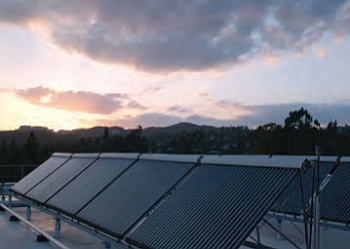 For over a decade, developers and builders have been working hard to make buildings more energy efficient. Business owners who think "green" care about these changes. But others not as environmentally conscious, find they must also focus on costs savings. Southern California business owners are no different. Many are realizing that installing solar water heating is the missing component they've been overlooking. Due to increased availability of solar water heating systems, along with a robust rebate program provided by the California Solar Initiative and utilities like SoCalGas, solar water heating is becoming a smart choice for many businesses throughout Southern California.
This was supported in the Johnson Controls, Inc. published white paper, "Solar Thermal Energy: The Time Has Come" where it was shown that "solar heating is the most cost-effective on-site renewable energy resource." Commercial users who require a lot of hot water such as hotels, restaurants, and property management companies, along with many others, are able to cut heating water costs. As a business grows and its need for hot water does too, solar water heating can be the ideal solution to offset some of these larger expenses.
WHY CALIFORNIA IS THE PLACE FOR SOLAR WATER HEATING
California offers impressive incentives to encourage businesses to switch to solar water heating. Rebates can be up to $800,000 for eligible commercial and multi-family properties. Of course, the real rebate rate depends on how much energy the business displaces each year. But businesses in a state where the sun shines year-round, are finding that a solar water heating system could provide up to 80% of the hot water they will use in a year.
Many businesses are already using solar water heating with positive results. UCLA, one of the largest universities in the state, was looking for ways to cut its hot water bill and decided to commit to solar water heating. Today, their system helps power 5,000 showers and accounts for hot water used in 7,000 meals per day. UCLA is saving more than $3,600 per year in a single residence hall.
Another satisfied customer, Krystal Dry, General Manager for Jones & Jones Management Group, Inc. reports on her business positive results. "We own and manage about 3,000 units in the Greater Los Angeles area, many of which have solar water heating systems in place. The new systems are projected to pay for themselves in about two years*. So, we're going to save money, and we're also helping the environment."
Prev Next