Glazier's Growth
Giroux Glass thrives on difficult terrain
Friday, December 7, 2018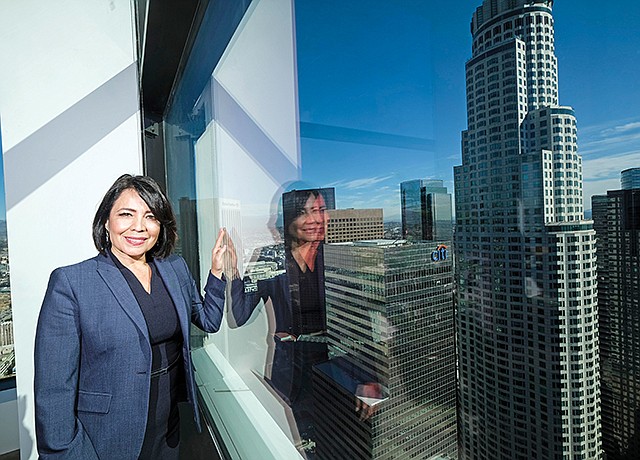 Giroux Glass Inc., a glass pane installation company headquartered in L.A.'s University Park neighborhood, has etched a reputation in recent years for taking on the most difficult jobs that few other glaziers could or would do.
Take, for example, Giroux's most iconic project: installing the panes for the glass in the horseshoe-shaped bridge known as the Grand Canyon Skywalk, which extends 70 feet out from the rim of the Grand Canyon with nothing but Giroux's reinforced glass panes separating the viewer from the canyon floor 3,700 feet below.
Giroux was not the first choice for the general contractor hired by the Hualapai Indian tribe that owns the land around the skywalk site. But when the previous glazier and the general contractor had a falling out, Giroux was called in to save the project.
"They reached out to us because they knew Giroux had the reputation of being able to handle the big and complex jobs," said Chief Executive Nataline Lomedico.
"There were a lot of challenges, including the logistics of getting the glass and other materials to the site, which is a long drive from anywhere. Then there was the wind."
But Giroux persevered and completed the job, reinforcing the glass so it could withstand the weight equivalent of two 747 aircraft. The Skywalk opened in 2007 and has since attracted more than 300,000 visitors a year.
Closer to home, Giroux's glass window installations can be seen in several downtown skyscrapers – including windows that change tint for different lighting conditions at the 71 Above restaurant atop the U.S. Bank Tower, windows inside and outside for office space at the top of the Paul Hastings Tower at City National Plaza – as well as at the Staples Center arena.
Elsewhere, Giroux also has completed glass installations in a diverse array of buildings and structures, from eight-pane thick glass entry doors and a glass roof at the Prada flagship store on Rodeo Drive in Beverly Hills to glass panes at the Metro's Aviation station near Los Angeles International Airport to a glass panels for a healing garden at Kaiser Permanente Inc.'s hospital on Sunset Boulevard in East Hollywood. The company also has a division that installs glass windows in high-end and celebrity homes.
Projects like these have completed Giroux's transformation from a small service contractor that for decades focused on repairing broken windows in commercial buildings around Los Angeles to a major force in the glazier industry.
For reprint and licensing requests for this article, CLICK HERE.
Prev Next