Third Street 3.0 in Santa Monica
RETAIL: Plan to "reimagine" retail center underway
Friday, August 31, 2018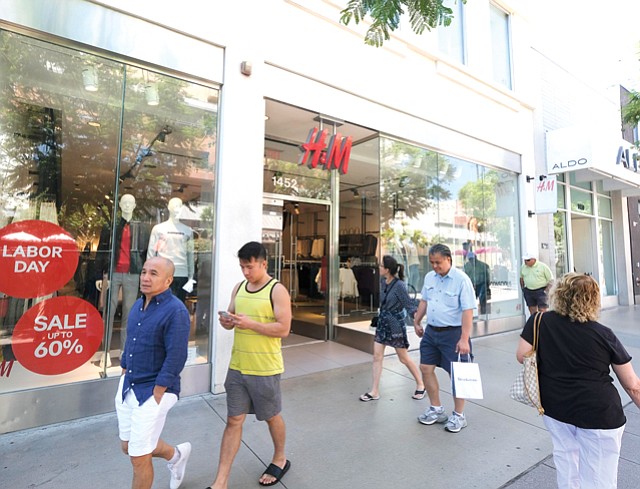 "We want 3.0 to be a good mix," Cole said. "More restaurants, office spaces, dining options."

A city ordinance prohibits office space on the ground floor on the Promenade, which leaves the second and third floors as viable alternatives.
A lot depends on how fast the city wants to move with these plans, according to Orbell Ovaness, who specializes in high-end retail for downtown-based real estate brokerage and investment firm CBRE Group Inc.
"Santa Monica is infamous for being tight and restrictive," he said.
Ovaness represented the seller of the former Adidas and Burn Fitness building on the 1200 block of Third Street, which sold for $30 million in December. He said it's incumbent upon retail centers to "create a place for meaningful interactions and innovative ways of shopping" alongside standard amenities these days.
The advice isn't lost on Rawson and Cole, who both agree Third Street Promenade has been hurt by the rise of e-commerce and millennial shoppers who prefer to buy less merchandise in favor of travel, food and entertainment. So too, Rawson said, have "other new shiny things," including the newly renovated Westfield Century mall.
Individual owners
There are 513 commercial properties in downtown Santa Monica, and 63 of them are between the three blocks that make up Third Street Promenade. The ownership includes a mix of families, real estate companies, and limited liability partnerships, among others.
The multitude of individual owners might be the single biggest challenge for Promenade 3.0.
"Developers like Rick Caruso and malls like Century City's Westfield can go over the top and spend $1 billion on building something from ground up or renovating," Cole, the city manager said. "They can curate the tenant mix in a way we can't because we don't own the properties."
Rawson agreed.
"Make no mistake – whenever you go to the building owners and ask them to spend money, it's a challenge," she said.
Walter N. Marks III is a third-generation Santa Monica property owner. His family owns the building addressed 1312 and 1320 on Third Street since 1946, he said.
His retail tenants include Miracle Mile-based Coffee Bean and Tea Leaf and Petaluma-based women's athleisure company Athleta Inc., a subsidiary of Gap Inc. The second and third floors of his three-story property are occupied by office tenants. Marks said he could not afford to turn a blind eye to the needs of the Promenade.
"It's time for a refresh," he said. "Our property is at stake, our incomes are at stake, and to be an absentee landlord is to be disingenuous."
Prev Next