Third Street 3.0 in Santa Monica
RETAIL: Plan to "reimagine" retail center underway
Friday, August 31, 2018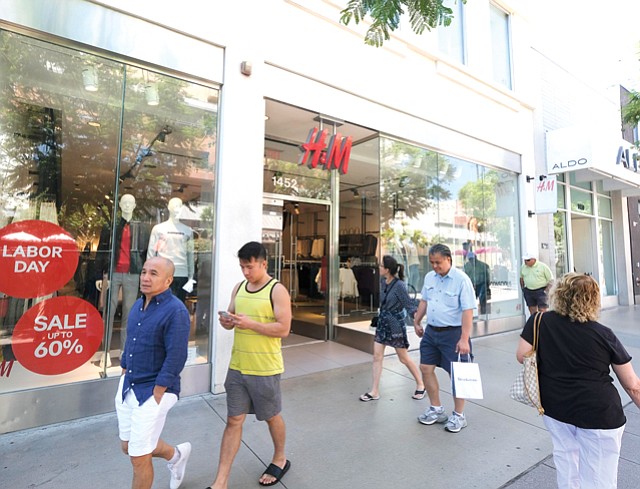 The time has come for Santa Monica's Third Street Promenade to redo its retail.
So say city officials, some property owners and Downtown Santa Monica Inc., a nonprofit that works with the city to manage services and operations in the area.
The idea is still in its infancy, but the general notion of a retail re-imagination – or Promenade 3.0 – is gaining steam among key stakeholders. The city has set aside $200,000 for a study to be conducted this fall that will assess the needs, costs and best practices for the planned update. Officials said an announcement on the lead research firm was imminent, though they declined to give a specific date.
"The excitement of the street has dimmed – we are looking to recreate an experience and we want people to use their downtown as a gathering place," said Kathleen Rawson, chief executive of Downtown Santa Monica Inc. "We've had a great 30 years since the last renovation of the Promenade, but we need to address concerns in the retail sector."
The Third Street Promenade took shape in the 1960s, and got a major renovation in 1989. Several minor cosmetic updates haven't stopped the street's look from growing outdated. Many stakeholders consider it out of step with the recent changes other retail centers and malls are making – including more restaurant and entertainment tenants – to get foot traffic into brick-and-mortar stores.
Another factor in the urgency to move ahead with planning for an update is the declining sales tax revenue from the Promenade, an important source of income for the city.
Total taxable sales generated in downtown Santa Monica – which encompasses an area stretching from Ocean Avenue to Lincoln Boulevard, and from the 10 freeway to Wilshire Boulevard – came to $1.1 billion in 2017. That was down 1.3 percent compared to the previous year.
The rate of decline was more than double for Third Street Promenade, which accounted for $472 million of total sales in 2017, down 2.9 percent year-to-year.
"Our property taxes are strong, hospitality is strong, but retail needs to be looked at," said Rick Cole, city manager of Santa Monica.
Envisioning 3.0
The City of Santa Monica foresees a public-private partnership for the next round of investment into the Promenade, with property owners, retail tenants and other partners involved. Cole estimates a makeover will cost between $5 million to $25 million and take three to four years to go from idea to completion.
Prev Next