Q&A: Beutner Plans for Business, Education Ties
LAUSD Chief Seeks Bigger Role for Community of Business
Friday, August 31, 2018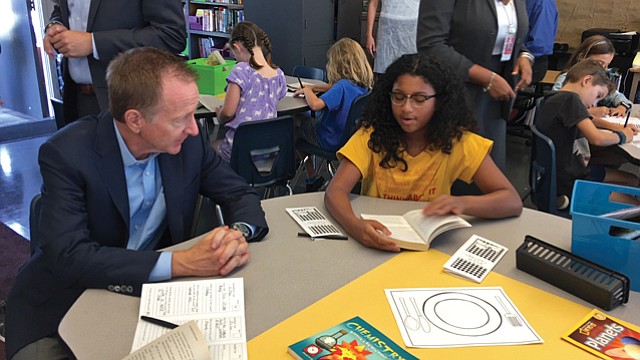 So, we start with the student, with the great teacher in the classroom. Then we must surround them with an adequately resourced school – and not just with what the district can provide, but with what the whole community around the school can provide. This is the place where our intersection with the business community becomes really powerful.
How do you see the role of the business community?
The business community needs to enter the conversation much more so than it does now. And not just because of self-interest, where businesses want to make sure that our students come ready, willing and able to work for any employer in our community. There's also a moral obligation. Those most active in the conversation today are the parents and other family members of some of those students, and the LAUSD workforce. Where is the business community? Not as engaged as they need to be. They should be present at every board meeting, at every school and when we are making value decisions about where our resources go.
You have called on school principals to become more entrepreneurial. Why summon such a huge cultural shift?
Any educator will tell you school leaders create the culture at each school – they work with families, students and teachers. Every great school has a great leader. The rest of us should be there to support those school leaders and those in the classrooms doing the work.
What should these school leaders change their schools into? What's the end vision here of what schools should become?
Let's look at something that's narrow and an important foundation piece: attendance. We know that the person who knows the community, who understands the students in their school and the families of those students, is local – is involved at that school. If the student is not at school, the school leader will know or should know if there's an issue with that student or that family. Maybe the student has asthma and needs to get a connection to her clinician to get a prescription filled. Or the student's parents are no longer a family unit. Maybe there's a need for counseling. That's very different than an attendance leader at headquarters looking at data on a page from 1,000 schools and then sending out a robo-call to each family. That doesn't do the work.
So we are realigning now: attendance counselors will no longer be headquarters-directed; they will be directed by individual schools they are assigned to. They should be visiting the households of absent students. That's the cultural shift we're talking about – starting from the school.