MAYNE ATTRACTION
Architect Thom Mayne has helped raise L.A.'s profile as a design leader
Friday, August 31, 2018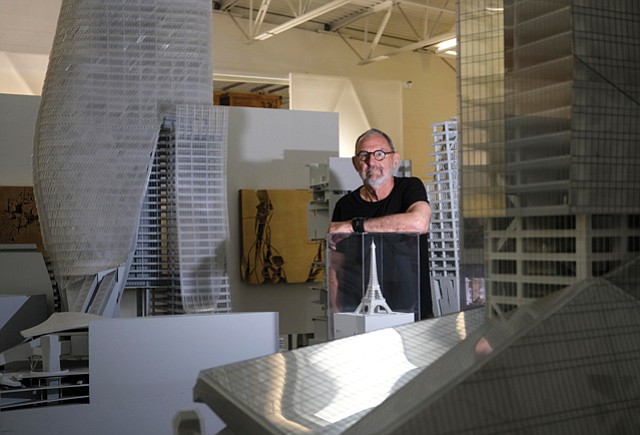 He added that Orange County, long considered to be L.A. County's more conservative sibling, is undergoing radical social change.
"It's getting pluralistic, it's what L.A. is," he said. "It's the American prototype, in a way."
L.A. pedigree
Mayne is perhaps best known in L.A. for downtown's CalTrans District 7 Headquarters, featuring a so-called intelligent skin that opens and closes in reaction to heat and light, and an outdoor lobby covered with neon tubing meant to evoke highway headlights. He also is the man behind CalTech's Cahill Center for Astronomy and Physics, and, more recently, Boston-based Emerson College's L.A. campus in Hollywood.
Mayne talks when prodded about the Orange County project, his Los Angeles area buildings, or any number of high-profile Morphosis endeavors around the globe, including the new Hanking Center Tower in Shenzhen, China, which Morphosis said represents the tallest steel structure in that country.
But it takes no prodding at all for Mayne to skirt his own award-winning design models to proudly point out the design work of 10-year-old students in Bridgeport, Conn., created as part of one of his pet programs, Turnaround Arts. The national program, sponsored by the President's Committee on the Arts and Humanities, provides arts education to underserved elementary and middle schools across the country.
Mayne said the kids are quicker to grasp sophisticated concepts such as abstraction and differentiation than many adults. "It's a great age," he said. "Their computer skills are over the top.
"A lot of them said this was the first thing they ever did that was theirs," Mayne continued. "For me, I was born with certain visual, artistic interests, and normative school wasn't interesting for me. It wasn't set up for me.
"It's been interesting to remind myself of my own disconnects," he added. "I get it."
Global reach
Surprisingly, an architect who represents L.A. to the world said he feels a certain disconnect with the city. Born in Connecticut and raised in greater Los Angeles from age 10, Mayne also maintains a home in New York City, where Morphosis has a second headquarters.
"About 50% of my work is in other countries, and 80 percent of work is out of the country, all really strong, innovative stuff," Mayne said. "It's in Korea, it's in China. I live here, but I'm kind of detached. People see a kind of looseness and relaxedness about our work that they associate with L.A. and its architecture schools.
For reprint and licensing requests for this article, CLICK HERE.
Stories You May Also Be Interested In