Kumana Brings Avocado Sauce to Own Backyard
Downtown-based company adds local grocers on heels of debut in NorCal, Oregon
Friday, August 24, 2018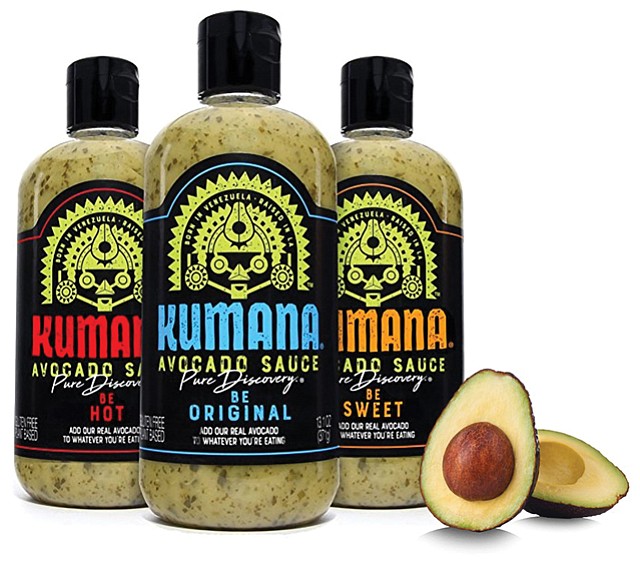 Downtown-based Kumana Foods, makers of avocado sauces, is set to expand into approximately 308 Albertsons Co., Vons, and Pavilions locations across Southern California in September.
The company said its products also will be stocked at 124 Safeway Inc. locations in Denver starting this month.
The Southern California launch marks Kumana's first venture into their hometown region and gives the company a foothold in more than 700 Albertsons and subsidiary locations on the West Coast.
"We are excited for our rapid growth on the West Coast and are especially thrilled to make our avocado sauces available to our home base of Southern California," Chief Executive Francisco Pavan said of the deal with Albertsons and Vons. "Our next step is to consolidate the market further by getting into the food service industry."
Pavan said he wants his avocado sauces to become a cult favorite, similar to what the Sriracha hot sauce became.

The company was started in 2016 by Pavan and vice president of product development Todd Vine, and made its official debut to the market in March at the Natural Products Expo West show in Anaheim.
The company signed with Safeway at the annual show. Three choices of the sauces – dubbed "be original," "be sweet," and "be hot" – were in 400 stores in Northern California and Portland, Ore., by Memorial Day weekend.
Honest Co. Panel
Jessica Alba hosted a panel at the headquarters of Playa Vista-based Honest Co. – where she is a co-founder – about unique challenges facing women entrepreneurs. The Aug. 20 discussion included Alli Webb, founder of Irvine-based Drybar, a hair service company; and Payal Kadakia, founder of New York-based ClassPass, a fitness class app.
Alba, who co-founded the consumer-goods company in 2012, led a discussion of subjects that ranged from work-life balance, equal pay, gender parity and mentorship.
Kadakia said that women entrepreneurs continue to face biases in funding.
"There aren't many women in the decision room and when you have products that are predominantly made for a female audience, then you're faced with finding a way to make funders understand the need," she said.
Webb emphasized the importance of work-life balance, saying life is too short to be uninspired at work.
"I want the best experience not just for our clients but our stylists as well and I think as founders, it's important to show that support and be vocal about what's working and what's not," she said.
Prev Next