DOWNTOWN DEVILS
Arizona State eyes stage in city's center for next push in L.A.
Friday, August 24, 2018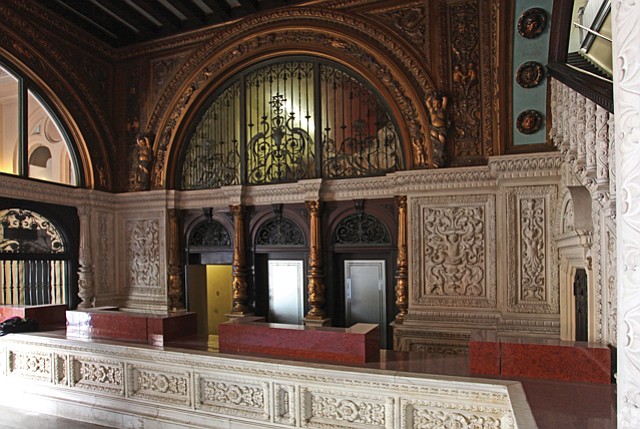 Arizona State University's splashy move into a downtown complex originally built for the long-defunct Los Angeles Herald Examiner will drastically expand the school's programs here and bring a new vibe to the area around the 105-year-old Moorish-style building.
Arizona State's presence in the L.A. market has so far consisted of a Santa Monica-based California Center and an affiliation with Zocalo Public Square, a nonprofit organization.
Now the school – which counts a Sun Devil as its mascot and has become the largest university in the nation by number of students – will flex its muscle in L.A. by occupying 80,000 square feet of the landmark 100,000-square-foot Herald Examiner building at 11TH Street and Broadway. The plan is to establish programs of the Walter Cronkite School of Journalism and Mass Communications and Herberger Institute for Design and the Arts at the complex in the south end of downtown. The area is the latest outpost in the redevelopment of the city's center that's now in its second decade.
Both of the programs already extend from Arizona State's main campus in Tempe to the Santa Monica center.
The move is part of Arizona State President Michael Crow's mandate, as laid out on the school's website, to make the school a "leading public metropolitan research university," with Los Angeles playing a central role in that mission.
An Aug. 17 statement from Crow regarding the downtown move said that his school's growing engagement in Los Angeles "will allow us to provide students and faculty creative new learning experiences, work with new strategic partners, and participate in the critical issues facing the nation's second largest city."
Arizona State's Herberger design school announced in May an academic program in conjunction with Los Angeles County, and recent publicity materials from the university has compared its research expenditures favorably to universities in Southern California.
Arizona State has yet to lay out any timeline on the building's renovation, or specifics of how the journalism and design programs might use the space.
"There are a plethora of compelling ideas that will be good for the university and the community," said Arizona State spokesman Steven Beschloss.
Beschloss also mentioned that the university's Thunderbird School of Global Management, Sandra Day O'Connor School of Law, School of Sustainability, and Fulton School of Engineering could have a presence.
Zocalo, meanwhile, combines a syndicated lineup of journalism distributed digitally with a steady schedule of events that convene representatives from cross-sections of society as part of a stated mission of "connecting people to ideas and to each other."
Prev Next