New L.A. Times Location in El Segundo Revealed
Monday, April 16, 2018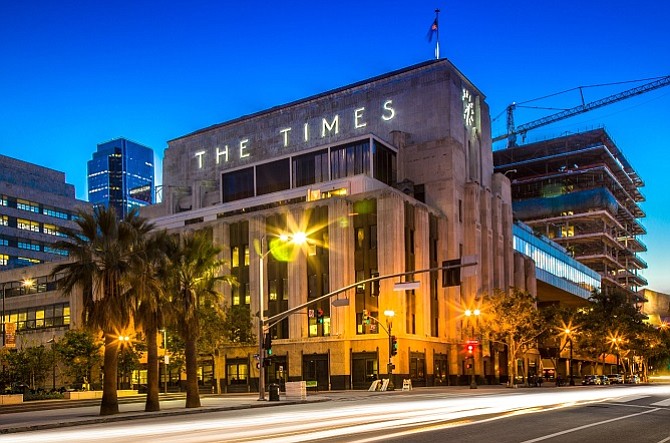 Editor's note: An earlier version of this story incorrectly stated the status of the Times' move to 2300 E. Imperial Highway. The move will be permanent. The Business Journal regrets the error.
The new home of the Los Angeles Times will be at the intersection of North Douglas Street and Imperial Highway, with the publication's staff occupying an existing office building starting in July.
Renovation is currently underway at the site, which got city approval within the last month, said Sam Lee, director of planning, building and safety for the City of El Segundo.
The site is at 2300 E. Imperial Highway, close to Los Angeles International Airport, south of the 105 freeway and north of the Los Angeles Metropolitan Transportation Authority Green Line's Aviation/LAX station.
Biotech billionaire Patrick Soon-Shiong, who is expected to complete his reported $500 million acquisition of the Times and several other publications in Southern California from Tronc Inc. in the next month, plans to use the top floor of a new building on the site for himself, according to Lee. The Times staff will take up most of the rest of the building, Lee said.
A spokeswoman for Soon-Shiong confirmed the move to the new location and said it will be permanent.
Soon-Shiong owns approximately 10 buildings in El Segundo, Lee said.
The Times' new owner announced April 13 that the newspaper would leave its downtown Los Angeles home for El Segundo. The Times has been in the City of Los Angeles since its founding in 1881 and at its current location at 202 W. 1st St. since 1934.
In 2016, the newspaper's then-owner, Tribune Media Co. of Chicago, sold the Los Angeles Times building to Vancouver-based developer Onni Group. The Times' lease at that location ends June 30. Onni has announced plans to redevelop the property.
Real estate reporter Ciaran McEvoy can be reached at cmcevoy@labusinessjournal.com or (323) 556-8337.