MWD Commits Up to $10.8B for Two-Tunnel Water Project
Tuesday, April 10, 2018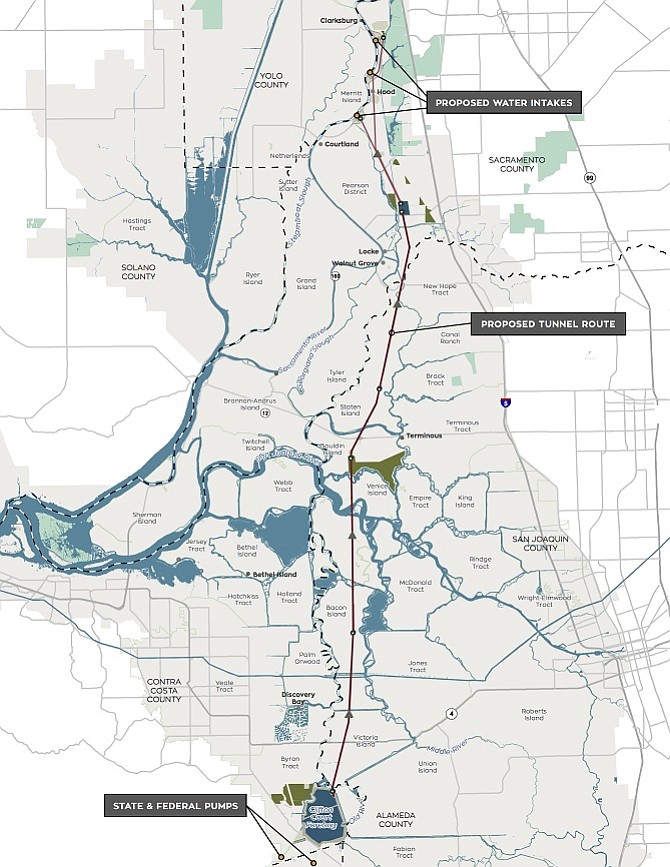 The Metropolitan Water District of Southern California board of directors on April 10 voted to commit up to $10.8 billion in funding for two water tunnels to carry water under the San Joaquin/Sacramento River Delta to Southern California.
The vote commits the giant Los Angeles-based water wholesaler to fund up to 64 percent of the $16.7 billion project at a total annual cost of up to $515 million, or $4.80 per household.
About 30 percent of the water that flows out of taps in Southern California comes from Northern California through the Sacramento-San Joaquin Delta. But the water delivery system through the Delta area is outdated, the natural ecosystem has been under severe stress and the 1,100-mile levee system is vulnerable to earthquakes, flooding, saltwater intrusion and sea level rise. The state has sought for 40 years to route water supplies around the Delta to reduce these problems and vulnerabilities.
The California Water Fix project calls for two 40-foot diameter tunnels under 35 miles of the delta to increase water supplies to Southern California, reduce saltwater intrusion, protect water supplies in case of disaster and allow more water to be set aside for wildlife and other environmental concerns.
So far, the MWD is the only major water provider to support the project; water districts in the Central Valley and the Bay Area have balked at the cost. That prompted Gov. Jerry Brown's administration to put forward a scaled-down proposal for one tunnel at a cost of $11.1 billion.
The board decided not to support the scaled down plan and turned away requests from some board members to postpone the vote for a month. While the vote count was very close, board members' votes are weighted differently, with urban representatives getting greater weight to their votes.
Despite opposition votes from the two largest cities, Los Angeles and San Diego, the final tally was 61 percent for and 39 percent against.
"For decades, we have sought a solution to the problems of the Bay Delta, problems that put Southern California's water supply at risk," Metropolitan board Chairman Randy Record said in the discussion leading up to the vote. "We finally have that solution, California WaterFix. We simply could not jeopardize the opportunity to move this long-sought and much-needed project forward."
Economy, education, energy and transportation reporter Howard Fine can be reached at hfine@labusinessjournal.com. Follow him on Twitter @howardafine.
For reprint and licensing requests for this article, CLICK HERE.